HURRICANE MICHAEL
The tragedy that hit Florida's panhandle.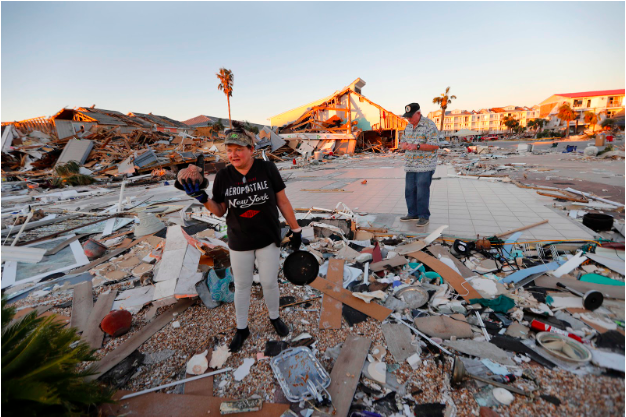 Hayden Harvey, Staff Writer
October 23, 2018
If you have watched the news, listened to the radio, or even just been on social media in the last week, you will know that a horrible tragedy has struck Florida and has already created an incredible amount of damage. Hurricane Michael hit Florida the afternoon of Wednesday, October 10th. The next day, the storm got reported as a category 4 hurricane, making it the strongest storm to hit Florida in nearly a century. The storm then started moving into Georgia, where even more people were told to flee as soon as possible. Even after a week of its initial hit, Hurricane Michael is still emerging.
So far, Michael has killed at least 32 people that we are aware of. Of those 32, 15 of them are from the Florida Bay county. Authorities worry that people who may not have fled the area could be trapped under debris composed of concrete, wood, and knocked down buildings. Rescue teams are still searching the areas for bodies, dead or alive. Mountains of debris are making it hard for these teams to find these missing victims. Drone units are now being used to fly over affected areas to try and relocate missing family members, friends, and neighbors.
As a Texas resident, you may think that there isn't much you can do to help these victims. But as a matter of fact, there are many ways in which you can help these victims get their life back. One easy way you can help is by donating to a reliable site. Unicef is a great example of a cite you can donate to and trust that the money will go to good use. Another way you can help is by donating blood—if you are 17 years of age or older. There are tons of people who lost blood in accidents and need transfusions to help them survive. One thing you could really do to make an impact is to send a care package to your local Red Cross for Michael victims. Here is a list of supplies that authorities say victims need most.
• Gas cards
• Gas cans
• Can openers
• Dog/cat food
• Hand sanitizer
• Toilet paper
• Bar soap
• Baby food
• Paper goods
• Batteries
• Rechargeable portable battery
• Bottle water
• Wet wipes
• Working gloves
• Latex gloves
• Hydrogen peroxide
• Band-aids
• Tarps
• Blankets
You can find most of these supplies at your local grocery store or pharmacy. The next time you are there, pick up a few extra batteries or band-aids to send to victims of Hurricane Michael. I promise you it will not be overlooked and could even help save someone's life.