PROJECT THANKFUL 2018
What are iUPrep Owls thankful for?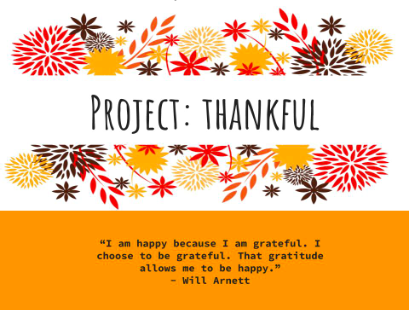 Hang on for a minute...we're trying to find some more stories you might like.
"I am happy because I'm grateful. I choose to be grateful. That gratitude allows me to be happy." – Will Arnett
Gratitude induces an awareness for the world around us, and results in a more meaningful life. When you are truly grateful, you'll find yourself living with greater purpose and passion. Appreciate every moment. Be aware of your blessings. Embrace your reality.
This Thanksgiving season, iHoot is bringing back our incredibly successful initiative, Project Thankful. We're giving you, the iUniversity Prep students, faculty, and families the opportunity to share what they're thankful for. Feel free to sign your name, or remain anonymous.
Do you want to share what you're thankful for? Click here to let us know and your response will be posted here! Share this link with your family, too, so we can let the thankfulness flow abundantly in the iUniversity Prep community. To see what everyone said they were thankful for last year, click here.
Here's what our Owls have to say:
"I'm thankful for the thousand ways my son makes me laugh every day, for his cozy cuddles, for time with my hubby doing nothing but sitting side by side, and for working in a school full of amazing students and teachers who bring me a mosaic of joy every lesson, meeting, and hangouts chat we have." – Mrs. Harbison
"I am thankful for the simple things in life that bring me joy and happiness. Things such as nice pens to draw with, or the beautiful sunrises, or even the trashmen who deal with all the nasty stuff in any kind of condition or weather so that we can live in clean homes." – Tori Mossman
"I'm thankful for my older brother.  He is a freshman in college this year. Roughly 15 years ago, when he was first diagnosed with autism, we weren't sure if we would even be able to communicate effectively. Right now he is a computer science major who got a full tuition scholarship to UT Dallas, and is in two honors programs. I couldn't be more thankful that he is able to study something he really enjoys at a great college." – Sarah Jagnow
"I'm thankful for memes." – Anonymous
"I'm thankful for free in-flight snacks, subscription television services, and the Wikimedia foundation." – Nathaniel Brown
"I'm thankful for the sacrifice that men and women have made in the past, present and will make in the future that keeps us safe in the USA." – Anonymous
"I am thankful for the two senior pride teachers who set great examples for me about how to serve kids well. Oh…and for putting up with all of my rookie questions and helping me often! Thanks Mrs. McFarland and Mrs. Harbison!" – Mr. Matus
"I'm thankful for my mom." – Anonymous
"I'm thankful for my family." – Kyler Bowman
"I'm thankful for family." – Anonymous
"I'm thankful for sunshine, gymnastics, friends, and family!" – Allison Gesino
"I'm thankful for my family and friends." – Anonymous
"I'm thankful for life, family, my pets, food, and giraffes." – London Baylee Hosier
"I'm thankful for Thanksgiving break." – Anonymous
"I'm thankful for food, water, air, and a roof over my head." – Ethan Gluck
"I am thankful for my family, everything I have, my pets, my friends, and my talents." – Kenzie
"I'm thankful for this school and all the teachers and students in it. I'm very thankful for my mom and ballet." – Grace Alston
"I'm thankful for my pets, family, and friends." – Katie
"I'm thankful for my kind family that has always supported what I want to do with my life. Every opportunity when I have gotten to do something I love. My friends that continue to stick with me, despite the fact that I don't go to their school anymore. My dogs and every single item I own. The house and bed that I have the pleasure of living and sleeping in. The amazing and flexible schedule my school has. And lastly, I am thankful to be fortunate enough to have the resources I need to live, and more." – Anonymous
"I'm thankful for my family and friends and the opportunity to do things I do that others can't." – Ryan Whittaker
"I'm thankful to be going to such an awesome school and having the best teachers." – Anonymous
"I'm thankful for veterans, people who keep us safe. My parents, they are the best. God, He is the best person/spirit ever." – Maya
"I am thankful for my unconditional love from my family. They mean so much to me and I cherish what a great relationship we have." – Makayla Noble
"I'm thankful for my brain to think, my feet to walk, and my arms to carry." – Anonymous
"I'm thankful for online school." – Ben Crouch
"I'm thankful for the cold weather, fuzzy socks, and my family." – Anonymous
"I'm thankful for my teachers because they are always there when I need them." – Anonymous
"I'm thankful for my wife, home, cats and working at the best school ever! : )" – Mr. Duban
"I'm thankful for many, many things. However, I'm MOST thankful for my wife and family, who support me in all of my endeavors, including teaching within this incredible family we call iUniversity Prep." – Mr. Ausdemore
"I'm thankful for Mr. Bowman, Mr. Burch, Mr. Betancur, and Mr. Raines.  We drive back and forth from Stephenville to Grapevine together on a regular basis, and these guys are such an encouragement and source of wisdom for me.  #stephenvillecarpool" – Mr. Carter
"I'm thankful for the amazing students, staff, and teachers at iUPrep!! All are a tremendous blessing!" – Mr. Price"I'm thankful for my amazing students, the fantastic staff that I get the privilege of working with, and our top notch administration that supports us all! iUP is the best school for so many reasons, and I couldn't be more grateful to be a teacher here!" – Mrs. Matthews
"I am so grateful to be able to work with such great staff and students at iUPrep! You are all awesome!" – Mr. Rains
"I'm thankful for my hubby, my daughters, my grandson, and my lovely students!" – Mrs. Alwin
"I'm thankful for my mother, and my church family." – Mrs. Manning
"I'm thankful for everyone I have in my life still, the ability to think about the future, being ambitious, having dreams and goals, life is something I am very grateful for." – Jailin Boehm
"I'm thankful for a growing family!  New baby boy coming next year!" – Mrs. Weiche (Author's Note: AHHHHHHHHHHHHHH!!!!!!!!)
"I'm thankful for the privilege of working at iUP. Thankful the culture of our school." – Mr. Betancur
More responses will be posted as they come in. Feel free to poke around our website and see what our writers have to say!
What are you thankful for this November?

About the Writer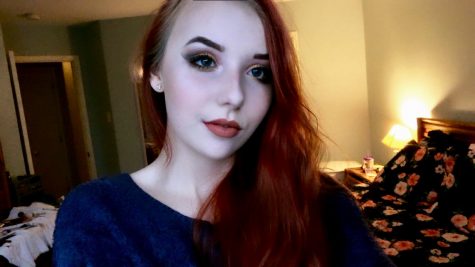 Denise Soerens, Editor-in-Chief
Hello! I'm Denise "Nisi" Soerens, and I am a Senior at iUniversityPrep. I love writing, reading, and am so very excited for another great year with the iHootstaff!
I am the Editor-in-Chief of the 2018-2019 iHootNewspaper.
Last year was my first year at iHoot, but I jumped right into the deep end as Associate Editor! I learned a lot about our day-to-day operations, and took the plunge as Editor-in-Chief this year; I've loved every minute of it. This year I'm looking forward to creating an aesthetically pleasing news publication that the students of iUniversityPrep can relate to and enjoy!
Besides being a part of iHoot, I'm an AP student, classical pianist, and a member of NHS! I love Jesus, music, reading, Pentatonix, Hamilton, memes, animals, and makeup! Looking forward to an owl-some year with iHoot!