COWBOYS DEFEAT SEAHAWKS, EAGLES ADVANCE AFTER PARKEY'S LATE MISS, AND MORE FROM WILDCARD WEEKEND
Zeke Squad wins iUP Fantasy Football league in tight matchup with Clarke's Batman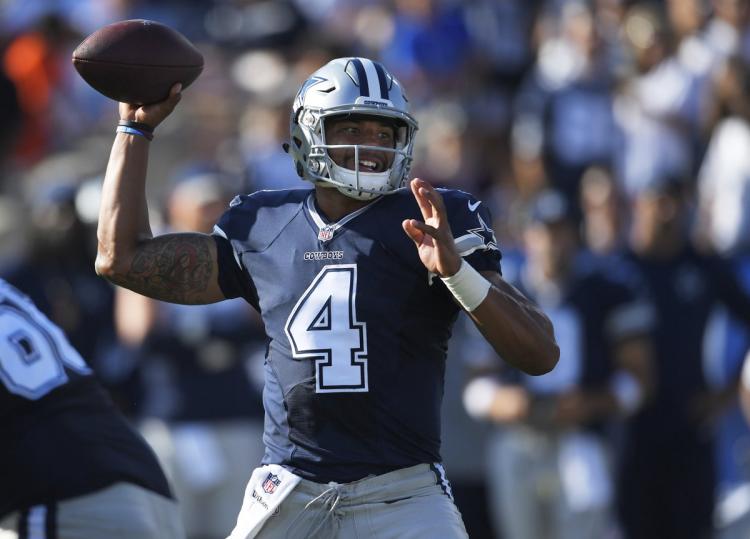 Wildcard weekend in the NFL was full of action and upsets, as three of the four wildcard teams defeated their division-winning opponents to advance. The Dallas Cowboys showed why they got in based off of a division title, taking care of business when it mattered against the Seahawks. The red-hot Colts and Eagles, who both barely snagged wildcard spots, grabbed convincing wins to advance and play the #1 seeds of their respective conferences. For the Los Angeles Chargers, they will have a tough task ahead after defeating the Ravens on Sunday, as they'll have to play the New England Patriots, but it is a task that the Chargers are capable of completing successfully. I will go more into detail about each game throughout this article, as well as cover the iUP Fantasy Football league results.
The Dallas Cowboys didn't play the prettiest game ever against the Seattle Seahawks, but they executed when it counted most, and took a 24-22 win to advance in the playoffs. Dak Prescott came through in a huge way as the two minute warning was closing in, gaining a huge 16 yard run on 3rd & 14 that set up the crucial touchdown to make it a two possession game. Running back Ezekiel Elliott was very complimentary of the way Prescott played, although his numbers don't blow your mind. Sometimes though, the impact of a player goes beyond the stat sheet. "It's simple, he played like a grown a– man," Elliott said in a humorous manner in a post game interview with FOX Sports. (Courtesy of clutchpoints.com) Elliott had a huge game, accumulating 169 total yards from scrimmage and a touchdown. Elliott, who is the NFL's rushing leader, was able to once again prove how big of an impact he has on his team's success and make a bigger case for the prestigious NFL MVP award. The defense was successful defending the run, only allowing 73 total rushing yards. The Cowboys will match up against the Los Angeles Rams in Saturday night primetime at 7:15 PM CT on FOX to try and get one step closer to a sixth Vince Lombardi Trophy.
The Philadelphia Eagles stole a win from the Chicago Bears late in Sunday's matchup to advance to the divisional round of the playoffs. A Nick Foles pass to Golden Tate for a touchdown on fourth down with 56 seconds left gave the Eagles a 16-15 lead, after they failed the two point conversion. The Bears drove down the field in those final 56 seconds, but kicker Cody Parkey, who had already missed 7 field goals and 3 PAT's in the season, missed the potential game-winning field goal after the ball hit the upright AND the crossbar. The kick has hilariously been referred to as the "double-doink" due to that reason. The NFL later found though, that the ball had been tipped by lineman Treyvon Hester of the Eagles, changing the trajectory of the kick. "Me and Haloti [Ngata] … we got penetration, got the hand up like coach always says," Hester said, according to the Philadelphia Daily News. "Tipped off my fingertips. Felt good … [but] actually, I thought I didn't get enough of it, I thought it was going to go in. When I saw it going in, I turned back around [away from the goal posts]. Then I heard everybody screaming, I was like, oh, [expletive] … he missed it." (Courtesy of espn.com) Parkey has been ridiculed and roasted the past few days for the miss, but he wasn't totally to blame after the block evidence was found. "I thought I hit a great ball and was trying to play the wind," Parkey said. "There's really no answer to it. I didn't make it. I take that loss on me. The sun is going to shine tomorrow, but unfortunately this one is going to sting for a while." (Courtesy of espn.com) The Eagles will play the Saints on Sunday at 3:40 PM CT on FOX to try and defend their championship.
Philip Rivers didn't have to rack up huge statistics for his Los Angeles Chargers to escape with a 23-17 win over the Baltimore Ravens. Rivers only had 160 yards on 22 completions, but stellar defense was enough to win the game. Baltimore only had 17 yards passing at the half before storming back into contention, and finished with 194 yards passing from the arm of 2016 Heisman Trophy winner Lamar Jackson. Chargers kicker Michael Badgley was the real story though, making 5 field goals throughout the game. "I got a lot of trust in 'Money Bags,' " running back Melvin Gordon said about Badgley. "He's money, know what I mean?" (Courtesy of latimes.com) Gordon was not as effective as usual, only gaining 40 yards on the ground against the stellar Baltimore defense. The Chargers will head to Foxborough to face Tom Brady and the New England Patriots on Sunday at 12:05 PM CT, and can be seen on CBS.
The Indianapolis Colts stunned the Houston Texans in a 21-7 win on Saturday. The Colts were surprisingly successful running the football against the tandem of Jadaveon Clowney and JJ Watt on the defensive line, as they had 200 yards rushing, and 148 of those yards came from Marlon Mack. Andrew Luck also impressed, passing for 222 yards and two touchdowns. "We know we have an elite quarterback and we can throw it for 400 and win when we have to," Indianapolis coach Frank Reich said. "But the margin for error in playoff football when you try to do it that way is very thin. When you can win like this — running the football and stopping it — that's just everything." (Courtesy of espn.com) The Texans were able to move the ball down the field, as they had 322 total yards, but struggled to put up points, as they did not score until the fourth quarter on a touchdown by Deshaun Watson to Keke Coutee. "Just a lack of execution on our part," Watson said. "We didn't make plays. I didn't make plays. Communication was a little off. You just got to give the Colts the credit." (Courtesy of espn.com) The Colts will take on the AFC's #1 seed, the Kansas City Chiefs, on Saturday at 3:35 PM CT on NBC.
The whole NFL world was turned into a state of shock when wide receiver Allen Hurns of the Dallas Cowboys suffered a gruesome leg/ankle injury in Saturday's game against Seattle. It was so bad, as a matter of a fact, that it even generated a reaction out of extremely mild-mannered commentator Joe Buck. Hurns was immediately tended to and stretchered off the field. Hurns, who wore the #17 this season in honor of the victims at the Stoneman Douglas school shooting, played for the Jacksonville Jaguars before joining Dallas this season. For Byron Jones, it gave him perspective and made him realize that anyone can suffer an injury at any time. "For us, one thing you learn very quickly is you can't take what we do for granted," Jones said. "I think, at any point, you can be taken out of the game or injured. And just seeing that, I think it woke a lot of guys up (to) understand that, 'We have an incredible opportunity to win a playoff game. Of course, we're out there and we're all playing for all our brothers out there and especially for Allen Hurns. We're playing for him right now. But this team is extremely resilient and we'll use that to our advantage." (Courtesy of 247sports.com)
The iUP Fantasy Football league crowned a champion after week 17, with Zeke Squad taking home a tightly-contested win against Clarke's Batman. A huge performance for Jameis Winston of Zeke Squad and the injury to Aaron Rodgers of Clarke's Batman were certainly deciding factors. For those of you who may not have already known, I'm actually the owner of Zeke Squad, so I just want to give a huge shout out to Mr. Clarke and Mr. Matus for running this fantasy sports program, and I hope I can have the same success in basketball. I'm super excited for next season, and I would love to see more students participate in operating teams in the various sports we do, such as football and basketball, as well as March Madness brackets!
Now for my current NFL MVP rankings.
1. Drew Brees, QB, New Orleans
2. Patrick Mahomes II, QB, Kansas City
3. Ezekiel Elliott, RB, Dallas
4. Philip Rivers, QB, Los Angeles Chargers
5. Aaron Donald, DT, Los Angeles Rams
Sources:
"Seahawks vs. Cowboys – Box Score – January 5, 2019." ESPN, ESPN Internet Ventures, 2019, www.espn.com/nfl/boxscore?gameId=401038953.
Schmidt, Matthew. "Ezekiel Elliott's Awesome Description Of Dak Prescott's Game-Winning TD vs. Seahawks." ClutchPoints, ClutchPoints, 6 Jan. 2019, clutchpoints.com/cowboys-news-ezekiel-elliott-says-dak-prescott-played-like-a-grown-ass-man-vs-seahawks/.
Press, Associated. "Foles Leads Eagles to 16-15 Upset of Bears." ESPN, ESPN Internet Ventures, 7 Jan. 2019, www.espn.com/nfl/recap?gameId=401038954.
Dickerson, Jeff. "NFL Changes Bears' Cody Parkey's Miss to a Block." ESPN, ESPN Internet Ventures, 7 Jan. 2019, www.espn.com/nfl/story/_/id/25707277/parkey-fg-miss-cost-game-officially-changed-block.
"Chargers vs. Ravens – Box Score – January 6, 2019." ESPN, ESPN Internet Ventures, 2019, www.espn.com/nfl/boxscore?gameId=401038955.
Miller, Jeff. "Michael Badgley Is on the Money, His Five Field Goals a Key to Chargers' 23-17 Wild-Card Victory over the Ravens." Los Angeles Times, Los Angeles Times, 6 Jan. 2019, www.latimes.com/sports/chargers/la-sp-chargers-report-20190106-story.html.
Press, Associated. "Luck Has 2 TDs to Lead Colts over Texans 21-7 in Wild Card." ESPN, ESPN Internet Ventures, 6 Jan. 2019, www.espn.com/nfl/recap?gameId=401038952.
Quinn, Sam. "Byron Jones: Cowboys Are Playing for Allen Hurns." Carolina Panthers, 247sports, 7 Jan. 2019, 247sports.com/nfl/dallas-cowboys/Article/Byron-Jones-Cowboys-are-playing-for-Allen-Hurns-127477680/.
Written on January 9th, 2019
About the Contributor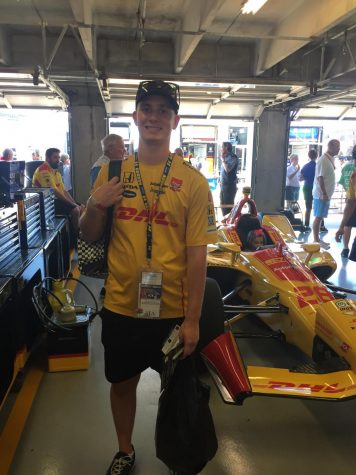 Austin Travis, Editor-in-Chief
Hey guys, my name is Austin Travis, and I will serve as the Editor-in-Chief for the iHoot Newspaper for the 2019-2020 school year. This is my fifth year...