WHAT'S A SAFE SPF?
The art of choosing a safe, clean sunscreen.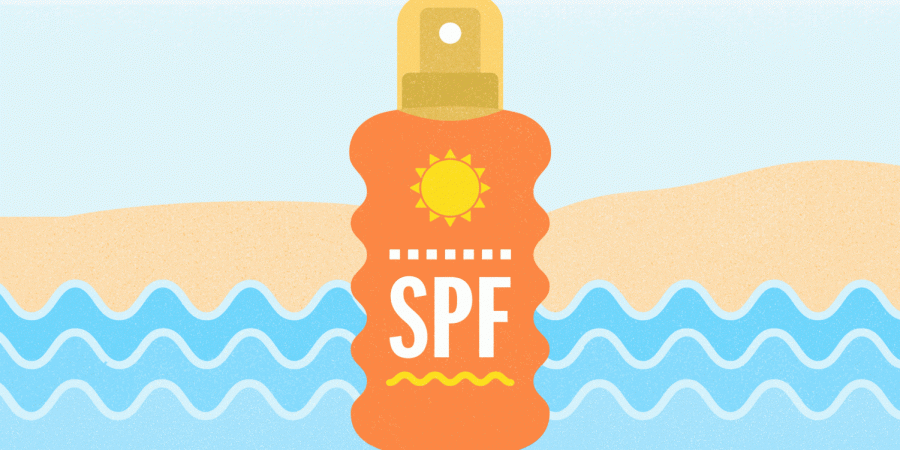 Lilly Tubbs, Staff Writer
May 17, 2019
With spring here, summer is just around the corner, which means seriously hot, blistering days full of sunshine. I am sure we all know that too much sun exposure is harmful to our skin.  The sun emits radiation in the form of UVA and UVB rays. These rays can cause skin cancer and skin damage. Proper sunscreen can provide a barrier against those harmful rays.
Many sunscreens on the market contain chemicals that are harmful to our skin, mimic hormones, and may be toxic to marine life.  Chemical sunscreens may contain minerals that reflect the rays and contain chemicals that absorb the harmful rays. Mineral only sunscreens use zinc oxide or titanium dioxide to protect against both UV rays.  Sometimes there is a Sun Protection Factor (SPF) number on sunscreens to inform consumers how long the product will protect them from the UV rays. But higher number sunscreens are not necessarily better for you than the lower numbers. Many people think that the higher SPF numbers mean you do not have to reapply the sunscreen as often as lower number SPF numbers. Studies say that anything above 30 SPF is not more protective than the 30 SPF.
There are several types of sunscreens that are not only going to protect your skin from any harmful radiation; they are also considered clean for your skin. Natural sunscreens are typically only mineral based and provide, at a minimum, 30 SPF. Many clean sunscreens have some natural botanicals and moisturizing oils to help hydrate your skin.  Here is a list of clean sunscreens that you may want to use this summer.
Love Sun Body – this is a broad-spectrum sunscreen protecting against both types of harmful UV rays and is splash proof.
Suntegrity – this brand has a cream and a mineral sports stick that is water-resistant.
Cellular Protection Sun Cream – this is a broad-spectrum sunscreen and does not leave a white residue from the minerals.
Beautycounter – perfect sunscreen for your face and body and is great for sensitive skin.
I encourage you to review your sunscreen collection and switch to a clean sunscreen to protect your skin and the environment for those hot summer days.