THE BELOVED NOTRE-DAME CATHEDRAL
Facts about the Notre-Dame cathedral. Did you know it has suffered more than one tragedy?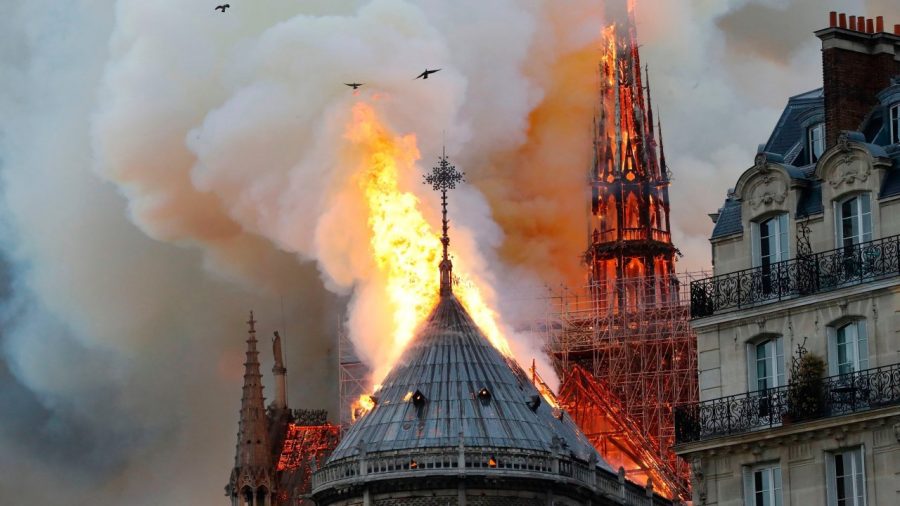 Lilly Tubbs, Staff Writer
May 17, 2019
One of the most historical landmarks, the Notre-Dame Cathedral, has been hit by tragedy, and, surprisingly, more than three times!
Recently, the most devastating damage was a fire affecting the 850-year-old Cathedral located in Paris. Other tragedies the Cathedral has faced were during the French Revolution, WWI, and WWII. The Notre-Dame Cathedral has a rich history. For example, King Henry VI was crowned in this cathedral in 1431. 1787-1799 was the period during which the French Revolution took place, and during this time the Notre-Dame Cathedral was ransacked. Many things, including religious sculptures and statues, were destroyed.
Notre-Dame Cathedral, also known as "our lady," is still in use today by the Roman Catholic Church for Sunday mass, and it is the seat of the Archbishop of Paris. Inside the Notre-Dame Cathedral, is a famous 17th-century organ that is still in working order. There are also drawings, plans, and engravings which showed the old and hidden mysteries of several of the church developments and how the city of Paris came into being.
The cathedral was built over the course of 200 years – construction began in 1163 during the reign of King Louis VII, and the first stone is said to have been laid in the presence of Pope Alexander III. The Cathedral will hopefully be restored and will need a temporary roof until the experts can finish their inspection and develop a plan. Restoration teams are still assessing the damage, and that process could take years. There will be many archeologists to help rebuild the Cathedral, and because there is so much written documentation about the Cathedral, people will be able to preserve the history of Notre-Dame.
https://traveltips.usatoday.com/notre-dame-cathedral-france-3356.html
https://www.cbsnews.com/live-news/notre-dame-cathedral-fire-cause-weakened-structure-today-2019-04-18-live-updates/
https://www.google.com/amp/s/www.historyextra.com/period/medieval/notre-dame-cathedral-facts-history-built-fire/amp/