ELLIOTT WINS TALLADEGA AS LARSON ROLLS ON LAST LAP
Larson flips and rolls numerous times in last-lap incident.
Hang on for a minute...we're trying to find some more stories you might like.
Chase Elliott took home his fourth career win after a last lap caution caused by debris from a spin by Ricky Stenhouse Jr. and a multi-car crash on the backstretch that sent Kyle Larson airborne and rolling ended Sunday's Geico 500 at Talladega. It was a race of manufacturers, as Ford, Chevy, and Toyota teams all teamed up to draft with each other. Chevy mastered the tactic, claiming 4 of the top 5 positions and both stage wins. "What a day!" Elliott said. "A huge thanks to all my partners, my team, Hendrick Motorsports, Chevrolet — there was a lot of teamwork done today." (Courtesy of nascar.com) Alex Bowman and Ryan Preece, both Chevy drivers, finished 2nd and 3rd, respectively. Joey Logano was the outlier in the top 5, driving a Ford to 4th place, and Daniel Hemric took home a 5th place finish. "We just had a plan, and we executed really well," Elliott said. "Obviously, it could have gone either way, but fortunately everybody stayed together and stayed the course and we got a little help on the last lap with the caution." (Courtesy of nascar.com) Elliott, who is from Dawsonville, Georgia, received a huge band of cheering and applause when he got out of his car, making the win feel even more special. "I appreciate all the support, man. This is special," Elliott said. "This is close to home for me and sort of feels like a home race." (Courtesy of nascar.com)
Runner-up Alex Bowman felt that he had a chance once the field came off of turn 4 and approached the tri-oval, but the opportunity never came due to the last-lap caution. "I'm not just going to let him win, right?" Bowman asked rhetorically. "I've got to try. I knew I could get to his quarter panel. I was pretty confident I could get to his quarter panel through the tri‑oval. Who knows who is going to get to the line first? At that point, I thought I could do it. Depends on the car behind you, where he goes. It would have been fun to try, but happy for Chase, Nationwide (Bowman's sponsor), everybody that lets us keep doing this thing. I'm glad to kind of turn the season around. It's been a rough start to the year. These guys deserve way better than the finishes they've had. To come home second, it's not a win, but headed in the right direction." (Courtesy of nascar.com) Bowman finished 2nd in both stages as well.
Kyle Larson was involved in a serious last lap incident coming off of turn 2. Contact by David Ragan into William Byron's left rear quarter panel sent Byron's Hertz #24 spinning across traffic, and caused Larson and Jeffrey Earnhardt to veer to the left towards the inside wall. As they got within 50 feet of the wall, air got up under the right rear of Larson's car, sending him airborne as he hit the wall. After his car deflected off of the wall, it began to roll numerous times. Due to a lack of replay footage due to the angles of the FOX Sports cameras, a video a fan took and posted on social media was the best angle of the car rolling. I would estimate that the car rolled about 12 times in the incident. Fortunately, Larson emerged from the car under his own power with no injuries. "That was probably the longest flip I've ever had," Larson said after he was checked out of the infield care center. "I didn't know if it would ever stop. … It was a little bit scary, but thankfully I'm all right." (Courtesy of nascar.com) Larson being able to escape unharmed from that crash showed just how much the safety equipment has evolved, and showed how precise the teams are when it comes to properly installing the equipment. "Thanks to the fab shop and Chip Ganassi Racing for building safe race cars," Larson said. "Like I said, that was scary. So, I'm just thankful that I'm OK. … As soon as we left the restart zone we were kind of just in a bad spot. When you're like that and everybody is four or five-wide, you know something crazy is going to happen." (Courtesy of nascar.com)
Here are the current Playoff Standings:
Driver                                         Points above/behind cutoff
Kyle Busch                                 3 wins
Denny Hamlin                             2 wins
Brad Keselowski                         2 wins
Joey Logano                               1 win
Martin Truex Jr.                           1 win
Chase Elliott                                1 win
Kevin Harvick                               +116
Kurt Busch                                    +89
Ryan Blaney                                 +72
Clint Bowyer                                 +54
Aric Almirola                                 +54
Daniel Suarez                               +32
Ryan Newman                              +17
Austin Dillon                                  +9
Alex Bowman                                +5
Jimmie Johnson                            +4
——————————————-  CUTOFF
Paul Menard                                  -4
Erik Jones                                     -8
William Byron                                -12
Ricky Stenhouse Jr.                      -15
Sources:
Spencer, Reid. "Chase Elliott Wins GEICO 500 at Talladega." Official Site Of NASCAR, NASCAR Wire Service, 29 Apr. 2019, www.nascar.com/news-media/2019/04/28/talladega-race-results-geico-500-2019-chase-elliott/.
Report, Staff. "Kyle Larson on Last-Lap Wreck: 'Longest Flip I've Ever Had'." Official Site Of NASCAR, NASCAR.com, 29 Apr. 2019, www.nascar.com/news-media/2019/04/28/kyle-larson-wreck-flip-talladega-last-lap/.
Davis, Eric. "Monster Energy NASCAR Cup Series." Official Site Of NASCAR, 14 Jan. 2019, www.nascar.com/standings/monster-energy-nascar-cup-series/.
About the Writer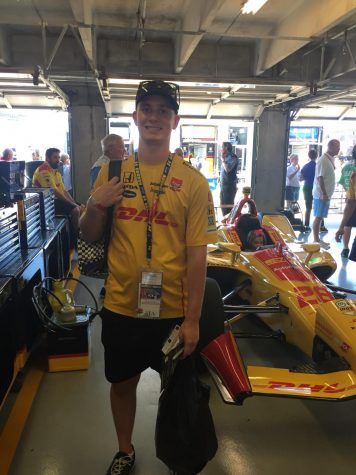 Austin Travis, Editor-in-Chief
Hey guys, my name is Austin Travis, and I will serve as the Editor-in-Chief for the iHoot Newspaper for the 2019-2020 school year. This is my fifth year...