HARVICK WINS AAA TEXAS 500 FOR THIRD YEAR IN A ROW
Hang on for a minute...we're trying to find some more stories you might like.
Kevin Harvick overcame a pit-road penalty to win his third consecutive AAA Texas 500 and punch his ticket to the Championship 4 at Homestead. Harvick led a race high 119 laps en route to his fourth win of the year, and 49th of his career, tying him with team owner Tony Stewart for 14th all-time on the win list. "Texas has always been so great to us, and what a race track the last few years," Harvick said. "It's just been a lot of work put into this race. We knew this was a good race track for us. Felt like it fit the styles of our cars, and, man, did it." (Courtesy of nascar.com) It was Harvick's first win in the 2019 playoffs, and his first top 5 since Dover four weeks ago. With ISM Raceway looming next, a track Harvick has won at 9 times in his career, he can approach that race with nothing to lose, as he knows he'll have the opportunity to win the title in the next race at Homestead-Miami. His SHR teammates all ran well too, as all four SHR drivers led 25+ laps, and Aric Almirola and Daniel Suarez finished second and third, respectively. Almirola led 62 laps and Suarez led 25. Teammate Clint Bowyer also led a fair amount of laps, as he paced the field early for 36 laps. "That was a very solid night, and I'm very happy with the performance and speed that we brought from the shop," said Suarez, who matched the third-place finish he posted at Texas in the spring. "Everyone back at the shop did a great job. We knew we would be fast here. We had a solid performance here last time. We did a good job. We had good execution and a good clean day. I'm very happy for Stewart-Haas Racing and the 41 Ford Mustang was pretty sporty. I am very happy for Kevin getting his ticket for Homestead." (Courtesy of nascar.com)
Playoff drivers Chase Elliott and Denny Hamlin suffered major mishaps in the first stage of Sunday's race, making their quests for a title much more challenging. Elliott's car got loose on the exit of turn 2 on lap 9 and hit the wall pretty hard, and Hamlin spun through the frontstretch grass on lap 80. For Elliott, the only mathematical way for him to advance to the Championship 4 is by virtue of a win in Sunday's penultimate race at ISM Raceway. "I made a mistake, got loose and crashed. I really hate that happened," Elliott said. "Obviously, it's not good and not what you're looking for. It's just my mistake and there's really no excuse for it. It's just all eyes on Phoenix." (Courtesy of nascar.com) Unfortunately for Hamlin, his car dug in to the frontstretch grass after his spin coming off of turn 4, causing significant damage. However, he was able to finish the race 28th, 6 laps down. "Just lost control. That's all there is to it," Hamlin said. "But proud of the whole FedEx team for putting their best effort to get this running with decent speed there at the end. Did the best we could and we'll go to Phoenix and try to win." (Courtesy of nascar.com) Hamlin is 20 points below the cutoff line, so while it will be near impossible to qualify on points without Kyle Busch or Joey Logano suffering a major mishap, he could still do it by earning a lot of stage points and a good finish. However, barring anything crazy, he will most likely have to win to advance. "The car and effort will be there, that's for sure," Hamlin said. "There's no doubt in my mind we can go there and win. Especially in these circumstances, I like the challenge. So we're going go out there and give it our best shot and put our best foot forward and see if we can't get a win next week." (Courtesy of nascar.com)
The penultimate race for the Monster Energy NASCAR Cup Series will be at Phoenix's ISM Raceway on Sunday, as the eight driver playoff field will be cut in half for the season finale in Miami. With the large margin at the cutoff, drivers will be willing to make some crazy moves to win their way into the next round. Tune in to NBC on Sunday at 1:30 CT to catch all of the action.
Here are the playoff standings:
Driver                                                     Points +/- cutoff
1.Martin Truex Jr.                               ADVANCED
2.Kevin Harvick                                   ADVANCED
3.Kyle Busch                                         +22
4.Joey Logano                                       +20
——————————————CUTOFF
5.Denny Hamlin                                    -20
6.Ryan Blaney                                        -23
7.Kyle Larson                                          -23
8.Chase Elliott                                        -78
Written on November 5th, 2019
Sources:
Spencer, Reid. "Kevin Harvick Seals Title Shot with Texas Victory." Official Site Of NASCAR, NASCAR Wire Service, 4 Nov. 2019, www.nascar.com/news-media/2019/11/03/results-texas-motor-speedway-playoff-race-recap/.
Staff Report. "Denny Hamlin in Playoff Peril after Stage 1 Crash at Texas." Official Site Of NASCAR, NASCAR.com, 4 Nov. 2019, www.nascar.com/news-media/2019/11/03/texas-motor-speedway-denny-hamlin-stage-1-crash-playoffs/.
Staff Report. "Chase Elliott in Must-Win Scenario after Texas Wreck." Official Site Of NASCAR, NASCAR.com, 4 Nov. 2019, www.nascar.com/news-media/2019/11/03/texas-motor-speedway-chase-elliott-playoffs/.
Davis, Eric. "Monster Energy NASCAR Cup Series." Official Site Of NASCAR, 14 Jan. 2019, www.nascar.com/standings/monster-energy-nascar-cup-series/.
About the Contributor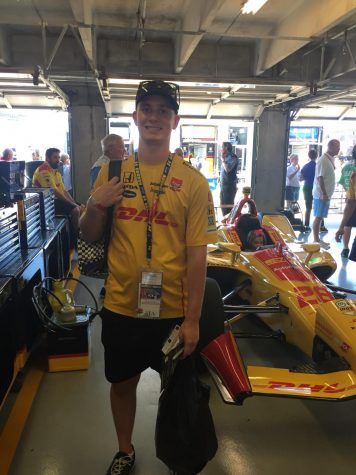 Austin Travis, Editor-in-Chief
Hey guys, my name is Austin Travis, and I will serve as the Editor-in-Chief for the iHoot Newspaper for the 2019-2020 school year. This is my fifth year...