LSU, OHIO STATE, CLEMSON, AND OKLAHOMA MAKE UP COLLEGE FOOTBALL PLAYOFF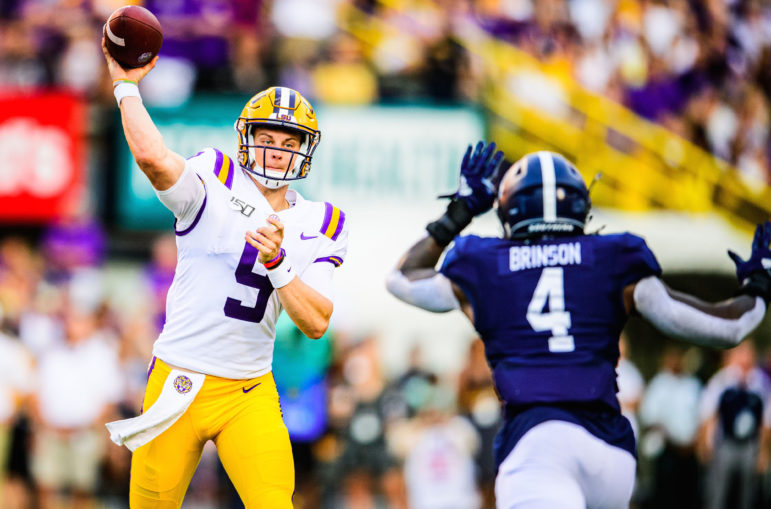 It's finally that time of year! The smells of cookies and other sweets fill our houses, children are growing more and more excited for the big day, and of course, the College Football Playoff is quickly approaching. The first round matchups were set on the Selection Show on Sunday, as the LSU Tigers will play the Oklahoma Sooners in the Peach Bowl, and the Ohio State Buckeyes will play against the Clemson Tigers, who won the Playoff last season. There are numerous stories associated with these teams, so here is a rundown of each team.
LSU Tigers
The LSU Tigers have the most impressive resume of any team in the country, as they have 5 AP top 10 wins on the season, with wins on the road against Alabama and Texas, and home wins against Florida and Auburn. This team has been led by an all-time great offense, headlined by Heisman-leading quarterback Joe Burrow, who is a grad-transfer from Ohio State, and elite wide receiver Ja'Marr Chase, who leads the nation in receiving yards and receiving touchdowns. Now that the defense has stepped up as of late, as they've only allowed 17 points in their past two games combined, this team is the hands down favorite to win the playoff at this point. And with the potential return of star linebacker Michael Divinity on the horizon, this team could become even tougher to beat than they already are.
Ohio State Buckeyes
A team that has two Heisman finalists is destined for success, as the 13-0 Ohio State Buckeyes have displayed that throughout this entire season with potential #1 draft pick Chase Young and Georgia transfer quarterback Justin Fields. There is some concern after their dismal first half display against Wisconsin in the B1G Ten Championship game, but their comeback in the second half put most of that concern to rest. When this team is firing on all cylinders, they are near unbeatable, and they have had tons of experience against talented opponents, as they have 6 AP top 25 wins this season. If they play as well as they did against Michigan a couple of weeks ago, this team could be the most dangerous in the Playoff.
Clemson Tigers
The defending champions will be ranked #3 in this season's Playoff after going 13-0, including a massive 62-17 victory over Virginia in the ACC Championship game. Clemson is looking for their third championship in the last 4 seasons, but it won't come without a challenge. However, coach Dabo Swinney has been quick to find motivation for his players, using the disrespect of the committee towards Clemson to drive his team to a title. "We started the No. 1, went undefeated in the regular season and finished third," Swinney said. "Ok, so that's history, first time that's happened. No. 1. So congratulations on that. (Courtesy of usatoday.com) With the championship experience most of this roster has and the great play of late, this Tigers team may be as good or better than the previous championship teams.
Oklahoma Sooners
Despite all of the rumors surrounding the future of Lincoln Riley, he has guided Oklahoma to their third straight Playoff appearance in his third season as head coach. However, he has not been the biggest story on this team, as Alabama transfer quarterback Jalen Hurts has proven himself right by transferring, as he is a Heisman finalist with stats comparable to those of Kyler Murray and Baker Mayfield in their Heisman seasons. While Hurts will have to play well, wide receiver Charleston Rambo may be the X-Factor for this squad, as CeeDee Lamb will most likely be covered up by LSU's top cornerback Derek Stingley Jr. and the Sooners are without tight end Grant Calcaterra, so Rambo will need a big game if OU is going to have a chance to win against the Tigers.
For the first time, I have put together my own personal poll, which will be the only of this season, but I plan to release weekly or semi-weekly polls next season. Here is the inaugural iHoot Sports CFB Poll.
LSU (13-0)
Clemson (13-0)
Ohio State (13-0)
Oklahoma (12-1)
Oregon (11-2)
Georgia (11-2)
Florida (10-2)
Baylor (11-2)
Auburn (9-3)
Penn State (10-2)
Wisconsin (10-3)
Alabama (10-2)
Utah (11-2)
Memphis (12-1)
Minnesota (10-2)
Notre Dame (10-2)
Boise State (12-1)
Iowa (9-3)
Appalachian State (12-1)
Michigan (9-3)
FAU (10-3)
USC (8-4)
Cincinnati (10-3)
Navy (9-2)
SMU (10-2)
Written on December 12th, 2019
Sources:
"AP Top 25 Poll." AP NEWS, apnews.com/APTop25CollegeFootballPoll.
Al-Khateeb, Zac. "College Football Playoff Rankings: Who Are the Four Teams in the Final CFP Poll Release of 2019?" Sporting News, (Riley Meek/SN), 10 Dec. 2019, www.sportingnews.com/us/ncaa-football/news/college-football-playoff-rankings-final-four-cfp-poll-release-2019/19lhkpshu0qap14ysa8pdi5gn4.
"College Football Rankings 2019 – Coaches Poll." CBSSports.com, 2019, www.cbssports.com/college-football/rankings/coaches/.
"Ja'Marr Chase Stats, News, Bio." ESPN, ESPN Internet Ventures, www.espn.com/college-football/player/_/id/4362628/jamarr-chase.
"LSU Tigers College Football – LSU News, Scores, Stats, Rumors & More." ESPN, ESPN Internet Ventures, www.espn.com/college-football/team/_/id/99/lsu-tigers.
Gardner, Steve. "Dabo Swinney: Clemson Disrespected by No. 3 Seed in College Football Playoff." USA Today, Gannett Satellite Information Network, 8 Dec. 2019, www.usatoday.com/story/sports/ncaaf/acc/2019/12/08/clemson-dabo-swinney-3-seed-college-football-playoff/4375345002/.