NBA LEGEND KOBE BRYANT DIES IN HELICOPTER CRASH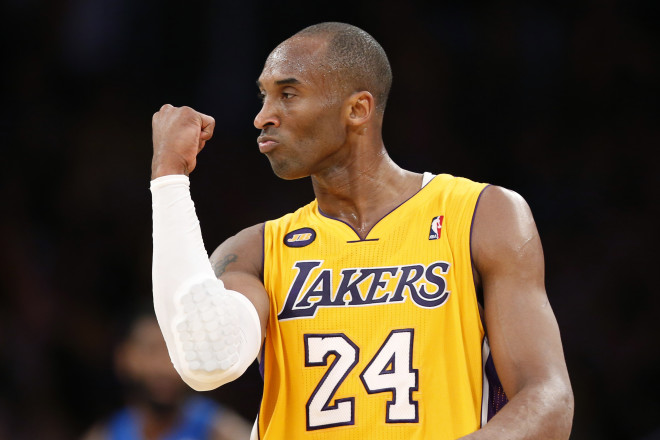 The sports world was supposed to be hyping up Super Bowl LIV this week, but the death of an NBA legend is what's garnering all of the attention right now, and very rightfully so. Former Lakers superstar Kobe Bryant perished in Sunday's Calabasas, California helicopter crash that took eight other lives, including Bryant's 13 year-old daughter Gianna. Bryant was 41 years old, and was enjoying his fourth season of retirement from his NBA career, taking pride in mentoring Gianna on and off the court, and was on his way to one of her basketball games when the helicopter crashed. The identities of all nine victims have been confirmed, but the cause of the accident has not yet been confirmed, although there was a very dense coat of fog around the area when the accident happened.
Bryant was drafted 16th overall in the 1996 NBA draft by the Charlotte Hornets before being traded to the Lakers on draft night. Pairing with Shaquille O'Neal, Bryant won three titles early in his career, and added two more later with less help on his roster. He was also an 18-time NBA All-Star in his 20 year career, and was voted to the All-NBA first team 11 times. He also won the league MVP in the 07-08 season. He had just been passed by current Lakers player and close friend LeBron James for 3rd on the all-time NBA scoring list the night before, sparking a huge wealth of comments on Kobe's importance to basketball even before the accident, and even more heartfelt message were posted on social media after the accident:
All social media listed by name.
Instagram: LeBron James (@kingjames)-I'm Not Ready but here I go. Man I sitting here trying to write something for this post but every time I try I begin crying again just thinking about you, niece Gigi and the friendship/bond/brotherhood we had! I literally just heard your voice Sunday morning before I left Philly to head back to LA. Didn't think for one bit in a million years that would be the last conversation we'd have. WTF!! I'm heartbroken and devastated my brother!! 😢😢😢😢💔. Man I love you big bro. My heart goes to Vanessa and the kids. I promise you I'll continue your legacy man! You mean so much to us all here especially #LakerNation💜💛 and it's my responsibility to put this (expletive) on my back and keep it going!! Please give me the strength from the heavens above and watch over me! I got US here! There's so much more I want to say but just can't right now because I can't get through it! Until we meet again my brother!! #Mamba4Life❤️🙏🏾 #Gigi4Life❤️🙏🏾
Instagram: Shaquille O'Neal (@shaq)-There are no words to express the pain I'm going through now with this tragic and sad moment of loosing my neice Gigi & my friend, my brother, my partner in winning championships, my dude and my homie. I love you and you will be missed. My condolences goes out to the Bryant family and the families of the other passengers on board. IM SICK RIGHT NOW !
Twitter: Donald Trump (@realDonaldTrump)-Kobe Bryant, despite being one of the truly great basketball players of all time, was just getting started in life. He loved his family so much, and had such strong passion for the future. The loss of his beautiful daughter, Gianna, makes this moment even more devastating………Melania and I send our warmest condolences to Vanessa and the wonderful Bryant family. May God be with you all!
Twitter: Nick Van Exel (@vanexel31)-Kobe you will be missed bro. Came in the league as a young pup. Left out a global icon. Prayers to the family. So sick right now. Love!! https://youtu.be/XLk8MMkKTmg via
@YouTube
Twitter: Mark Cuban (@mcuban)-Damn. RIP Mamba. May your memory be a blessing.
Twitter: NASCAR (@NASCAR)-Statement from NASCAR: "We are deeply saddened by the loss of NBA legend Kobe Bryant, his daughter Gianna, and all those who perished in today's tragic accident. With a heart of a champion, Bryant made a generational impact on sports throughout the world."
On behalf of iHoot newspaper, we want to offer our condolences to the whole Bryant family, Altobelli family, the Mauser family, and the Zobayan family as they deal with the devastating tragedies from the incident.
Written on January 28th, 2020
Sources:
FOX TV Digital Team. "What We Know about the Victims in Kobe Bryant's Helicopter Crash." FOX 29 News Philadelphia, FOX 29 News Philadelphia, 28 Jan. 2020, www.fox29.com/news/what-we-know-about-the-victims-in-kobe-bryants-helicopter-crash.
Nascar. "Statement from NASCAR: 'We Are Deeply Saddened by the Loss of NBA Legend Kobe Bryant, His Daughter Gianna, and All Those Who Perished in Today's Tragic Accident. With a Heart of a Champion, Bryant Made a Generational Impact on Sports throughout the World."." Twitter, Twitter, 27 Jan. 2020, twitter.com/NASCAR/status/1221652935702196224.
Cuban, Mark. "Damn. RIP Mamba. May Your Memory Be a Blessing." Twitter, Twitter, 26 Jan. 2020, twitter.com/mcuban/status/1221521656541319174.
Trump, Donald J. "Kobe Bryant, despite Being One of the Truly Great Basketball Players of All Time, Was Just Getting Started in Life. He Loved His Family so Much, and Had Such Strong Passion for the Future. The Loss of His Beautiful Daughter, Gianna, Makes This Moment Even More Devastating…." Twitter, Twitter, 26 Jan. 2020, twitter.com/realDonaldTrump/status/1221582230008619016.
Van Exel, Nick. "Kobe You Will Be Missed Bro. Came in the League as a Young Pup. Left out a Global Icon. Prayers to the Family. So Sick Right Now. Love!! Https://T.co/fnZVPNo47P via @YouTube." Twitter, Twitter, 26 Jan. 2020, twitter.com/vanexel31/status/1221555405794443265.
O'Neal, Shaquille. "DR. SHAQUILLE O'NEAL Ed.D. on Instagram: 'There Are No Words to Express the Pain I'm Going through Now with This Tragic and Sad Moment of Loosing My Neice Gigi & My Friend, My…"." Instagram, 26 Jan. 2020, www.instagram.com/p/B7zE-AelO-q/.
James, LeBron. "LeBron James on Instagram: 'I'm Not Ready but Here I Go. Man I Sitting Here Trying to Write Something for This Post but Every Time I Try I Begin Crying Again Just…"." Instagram, 27 Jan. 2020, www.instagram.com/p/B72NUtWA0gS/.