BOWMAN EARNS SECOND CAREER WIN AT AUTO CLUB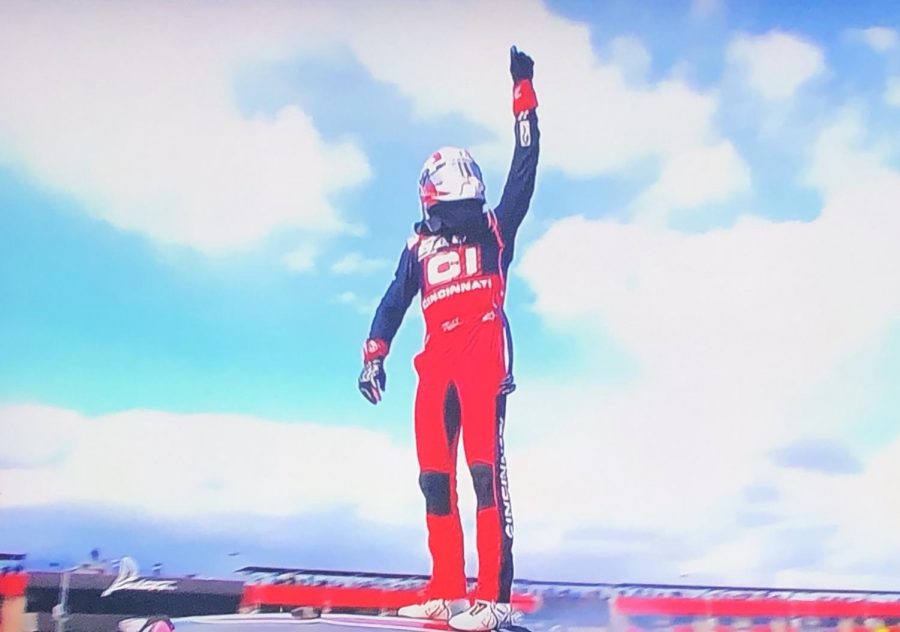 Alex Bowman was pegged as the favorite by many to win heading into Sunday's Auto Club 400 at the Auto Club Speedway in Fontana, California, a position he had never been in, as he's never executed that level of dominance throughout the whole weekend. However, he was able to prove those people right from the start, as he won stage 1, and followed that up with a race win, the second of his career, and the first win for the redesigned Chevrolet Camaro, which features a sleeker nose, as opposed to the jagged front end of the past two years. Bowman led 110 out of 200 laps-including the final 34-en route to his dominant win, finishing over ten seconds ahead of runner-up Kyle Busch. "How about that, California?" an exultant Bowman shouted after exiting his car. "I grew up quarter-midget racing maybe 20 minutes from here in Pomona Valley. Went there every week, met a lot of great friends and I know a lot of you guys were here. I promised my buddy, Aaron, that we would get matching 88 tattoos if I won, and I think I have to go get a tattoo now, but that will be a good time. It's been a lot of fun. Thanks to (crew chief) Greg (Ives) and all the guys. He made great calls all day. We were up front when it counted." (Courtesy of nascar.com) Bowman's other win came last summer at the 1.5 mile Chicagoland Speedway, but a huge dip in performance was extremely evident for the remainder of the year after that win last year. This time around, Bowman hopes to continue the strong momentum he's established, as he had a chance to win in Las Vegas last week before an ill-timed caution, followed by his dominating win on Sunday. "The first one, it was a really enjoyable experience and then we sucked for six months," Bowman said. "We started this year so strong. I feel like I have a lot on my side that is much better. My life is a lot more organized than it was back then. Greg and all the guys are just on point. We've unloaded the last two weeks — I don't think we've had to make a change in the race car from how it came off the truck. That makes my job a heck of a lot easier. I'm just so proud of this team. We put a lot of effort into this new car, and it's obviously worked out really well." (Courtesy of nascar.com) Fortunately for Bowman, his home track, Phoenix Raceway, is the next race on the schedule, a place he led 193 out of 324 laps in a relief effort for Dale Earnhardt Jr. back in 2016. If things go as they have the past two weeks, Bowman could make a huge statement at Phoenix Raceway next weekend with another strong performance, and possibly even earning a second straight win.
The Toyota juggernaut of Joe Gibbs Racing has left people scratching their heads after their performance, or lack of it, in these first three races. For a team that won 19 out of the 36 races in 2019, they have seemingly taken a massive step back. Only Martin Truex Jr. saw any significant time in the top 10 at Las Vegas for JGR, and mediocre practice and qualifying efforts for all four JGR cars at Auto Club made things difficult, as it took nearly half the race for all four JGR cars to find the top 15. Truex ran up front most of both races, but had critical mistakes that proved costly in the finishing order. Auto Club runner-up Kyle Busch, who won the championship in 2019, has not shown the speed that carried him to the title last season in the first three races of this year. "Yeah, we have a lot of work to do," Busch said. "Guys did a great job here, though, just trying to work on it and trying to make everything that we could out of it all day long, all weekend long. The Interstate Batteries Camry wasn't a second-place car, but thankfully we got a good finish out of here — we tried to get some points. Guys are doing all they can, I know, and all everybody at TRD (Toyota Racing Development). So I appreciate all the hard work. We've just got to get a little bit better. We finished the end of last year so strong, I don't know what we're missing here, but, obviously, it's a little bit of something here or there, maybe a little bit of something in a few different areas. But overall, good car today." The next race in Phoenix should give us a good indication of just how big the problems are for JGR, as they've won 4 out of the last 5 Phoenix races, including a sweep of the two races at the track in 2019, so a bad weekend there would indicate that it's time to panic.
Tune in to FOX on Sunday at 2:30 CT for the FanShield 500 at Phoenix Raceway, which will see the debut of the new short track package. This new package features a shorter spoiler than last year's package, meaning the car will be more difficult to drive, as it will have less downforce. If the low downforce package of 2017 and 2018 is any indication, Sunday's race is going to be a dandy.
Written on March 3rd, 2020
Sources:
Spencer, Reid. "Alex Bowman Powers to Auto Club Victory: NASCAR." Official Site Of NASCAR, NASCAR Wire Service, 2 Mar. 2020, www.nascar.com/news-media/2020/03/01/results-cup-series-auto-club-speedway-race-recap/.
"2016 Can-Am 500." Wikipedia, Wikimedia Foundation, 1 Oct. 2019, en.wikipedia.org/wiki/2016_Can-Am_500.