AUSTIN'S 2020 NFL MOCK DRAFT
Burrow and Young expected to be selected with the first two picks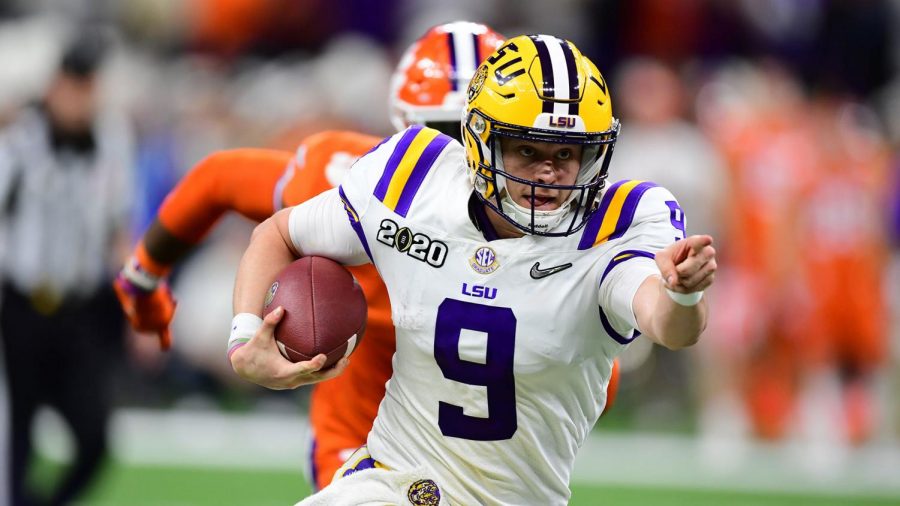 With the NFL Draft growing closer and closer, it is time for my 2020 NFL Mock Draft! I will draft the first two rounds, and I will include some hypothetical trades as well that could shake everything up. The early part of the draft immediately gets crazy with trades, but the players picked go about as expected early. However, there are certainly some surprises as we move through the latter parts of the first round. Quarterback and receiver should be the most interesting positions to watch, as they are both stacked with high level talent that will last through several rounds. With many teams in unique quarterback situations, it will be interesting to see if some choose to sign a free agent QB like Jameis Winston or choose to draft their QB of the future. Here is my mock draft.
Picks 1-32 are first round, 33-64 are second
Bengals-Joe Burrow, QB, LSU
Redskins-Chase Young, DE, Ohio State
Chargers(via trade with Lions)-Justin Herbert, QB, Oregon
Giants-Isaiah Simmons, LB, Clemson
Dolphins-Derrick Brown, DT, Auburn
Jaguars(via Lions trade with Chargers)-Jeff Okudah, CB, Ohio State
Panthers-Tristan Wirfs, OL, Iowa
Cardinals-Andrew Thomas, OL, Georgia
Jaguars-Jerry Jeudy, WR, Alabama
Browns-CeeDee Lamb, WR, Oklahoma
Jets-Henry Ruggs III, WR, Alabama
Falcons(via trade with Raiders)-CJ Henderson, CB, Florida
Patriots(via trade with 49ers)-Tua Tagovailoa, QB, Alabama
Jaguars(via trade with Buccaneers)-Javon Kinlaw, DT, South Carolina
Broncos-Mekhi Becton, OL, Louisville
Raiders(via trade with Falcons)-K'Lavon Chaisson, LB, LSU
Jets(via trade with Cowboys)-Jedrick Wills Jr., OL, Alabama
Dolphins-Jordan Love, QB, Utah State
Raiders-Kenneth Murray, LB, Oklahoma
Lions(via trade with Jaguars)-Kristian Fulton, CB, LSU
Eagles-Justin Jefferson, WR, LSU
Vikings-Xavier McKinney, S, Alabama
49ers(via trade with Patriots)-Jalen Reagor, WR, TCU
Saints-Patrick Queen, LB, LSU
Vikings-A.J. Terrell, CB, Clemson
Dolphins-Grant Delpit, S, LSU
Seahawks-A.J. Epenesa, EDGE, Iowa
Ravens-Zack Baun, LB, Wisconsin
Titans-Trevon Diggs, CB, Alabama
Packers-Jeff Gladney, CB, TCU
49ers-Brandon Aiyuk, WR, Arizona State
Chiefs-Jaylon Johnson, CB, Utah
Bengals-Cesar Ruiz, OL, Michigan
Colts-Yetur Gross-Matos, EDGE, Penn State
Jaguars(via trade with Lions)-Ross Blacklock, DT, TCU
Giants-Denzel Mims, WR, Baylor
Chargers-Austin Jackson, OL, USC
Panthers-Neville Gallimore, DL, Oklahoma
Raiders(via trade with Dolphins)-Josh Jones, OL, Houston
Texans-Robert Hunt, OL, Louisiana
Browns-Isaiah Wilson, OL, Georgia
Jaguars-Jeremy Chinn, S, Southern Illinois
Bears-Clyde Edwards-Helaire, RB, LSU
Colts-Tee Higgins, WR, Clemson
Jaguars(via trade with Buccaneers)-Josh Uche, EDGE, Michigan
Broncos-Jacob Eason, QB, Washington
Falcons-Bryce Hall, CB, Virginia
Jets-Lloyd Cushenberry, OL, LSU
Steelers-Terrell Lewis, EDGE, Alabama
Bears-Jonathan Taylor, RB, Wisconsin
Cowboys-Laviska Shenault, WR, Colorado
Rams-D'Andre Swift, RB, Georgia
Eagles-Ashtyn Davis, S, California
Bills-Michael Pittman Jr., WR, USC
Ravens-J.K. Dobbins, RB, Ohio State
Dolphins-KJ Hamler, WR, Penn State
Rams-Jordan Elliott, DL, Missouri
Vikings-Marlon Davidson, DL, Auburn
Seahawks-Antoine Winfield Jr., S, Minnesota
Ravens-Lucas Niang, OL, TCU
Titans-Curtis Weaver, EDGE, Boise State
Packers-Netane Muti, OL, Fresno State
Chiefs-Justin Madubulke, DL, Texas A&M
Lions-Lynn Bowden Jr., WR, Kentucky
Lions trade 3rd overall pick to the Chargers and receive the 6th overall pick and Desmond King(CB).
Raiders trade the 12th overall pick to the Falcons and receive the 16th overall pick and a 4th round pick(119).
49ers trade the 13th overall pick to the Patriots and receive the 23rd overall pick and 3rd round pick(87).
Buccaneers trade the 14th overall pick and a 2nd round pick(45) to the Jaguars and receive Yannick Ngakoue(DE) and a 6th round pick(189).
Cowboys trade 17th overall pick, 4th round pick(123), and 5th round pick(179) and receive Jamal Adams and Jets 4th round pick(120).
Lions trade Bo Scarborough(RB), the 6th overall pick(via Chargers) and a 2nd round pick(35) to the Jaguars and receive Leonard Fournette(RB) and the 20th overall pick.
Trades are certainly a major part of the first round, as many teams want to trade back, as their priority players are not in high demand, while others must trade up to fulfill their draft hopes and needs, thus adding some unexpected turns to the draft. Now remember, this is just a mock draft, not a real draft, so while this could happen come Thursday, Friday, and Saturday, it's not definite. I hope you guys enjoyed reading this, and stay safe during the rest of this pandemic!
Written on April 17th, 2020
Sources:
Wilson, Ryan, et al. "NFL Mock Drafts 2020 – Football Draft Projections." CBSSports.com, 16 Apr. 2020, www.cbssports.com/nfl/draft/mock-draft/.
Kelly, Omar, et al. "A Breakdown of Miami Dolphins' 14 Picks in 2020 NFL Draft." Sun, South Florida Sun-Sentinel, 15 Mar. 2020, www.sun-sentinel.com/sports/miami-dolphins/fl-sp-dolphins-draft-picks-20190922-6smmpece5rcbvhm5ykwj7ftufa-story.html.
McFadden, Will. "Where the Falcons Will Pick in Each Round of the 2020 NFL Draft." Falcons Home, 16 Apr. 2020, www.atlantafalcons.com/news/where-the-falcons-will-pick-in-each-round-of-the-2020-nfl-draft.
Schrager, Peter, et al. "2020 NFL Mock Draft Central." 2020 NFL Mock Draft Central – NFL.com, 2020, www.nfl.com/draft/2017/mock-drafts.
"NFL Draft 2020 Picks by Team – ESPN Draftcast." ESPN, ESPN Internet Ventures, 2020, www.espn.com/nfl/draft/teams/_/name/nyj/new-york-jets.
Tyree, Ameer. "Full List of Dallas Cowboys 2020 NFL Draft Capital, Needs, Dream Pick." DraftKings Nation, DraftKings Nation, 25 Mar. 2020, dknation.draftkings.com/2020/3/25/21183930/dallas-cowboys-2020-nfl-draft-picks-team-needs-first-round-mock-draft-dak-prescott-amari-cooper.
Edwards, Josh. "Two-Round 2020 NFL Mock Draft: Chargers Bypass a Quarterback, Eagles Move up for a Top Wide Receiver." CBSSports.com, 17 Apr. 2020, www.cbssports.com/nfl/draft/news/two-round-2020-nfl-mock-draft-chargers-bypass-a-quarterback-eagles-move-up-for-a-top-wide-receiver/.
Cohn, Jordan. "2020 NFL Draft: Second Round Draft Order, Value Picks." RADIO.COM: Listen to Free Radio, 4 Mar. 2020, www.radio.com/sports/nfl/2020-nfl-draft-second-round-draft-order-value-picks.
Alter, Marlowe. "Detroit Lions Own 9 Selections in 2020 NFL Draft. Here Are Their Picks." Detroit Free Press, Detroit Free Press, 28 Mar. 2020, www.freep.com/story/sports/nfl/lions/2020/03/28/detroit-lions-nfl-draft-picks-2020/2930755001/.
McKenna, Henry. "2020 NFL Draft: Here's a Look at All of the Patriots' Draft Picks." USA Today, Gannett Satellite Information Network, 11 Mar. 2020, patriotswire.usatoday.com/2020/03/11/2020-nfl-draft-patriots-draft-picks/.
"Jacksonville Jaguars – Draft Picks (Sortable) – NFL." Jacksonville Jaguars – Draft Picks (Sortable) – NFL – DraftSite.com, 2020, www.draftsite.com/nfl/jacksonville/28/2020/.
About the Contributor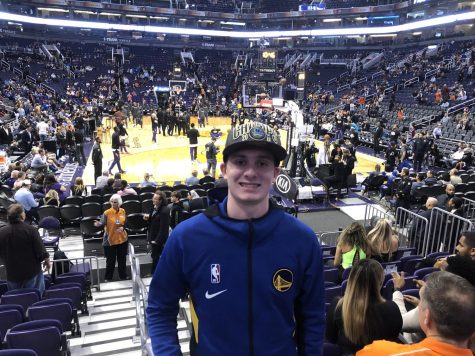 Austin Travis, Editor-in-Chief
Hey guys! My name is Austin Travis, and this is my 6th and final year with iHoot and my 6th and final year as a student at iUniversity Prep, as I'm a senior....