ROLAND GARROS 2020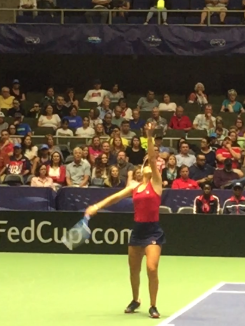 Coronavirus in Paris
Wins and losses. Victories and defeats. Smashed racquets and bad line calls. High topspin lobs, and spinny, slice dropshots. Down-the-line forehand winners, and out wide slice aces. Short, easy, half hour matches and long, tiring, six hour battles. Roland Garros has seen it all. But it has never experienced anything like what the 2020 tournament has brought. 
The last Grand Slam tournament of this year is held in Paris, France and occurs from September 21 to October 11. It typically takes place for two weeks in late May, but was pushed back because of the COVID-19 crisis. 
The Coronavirus has greatly influenced this clay court tournament in many ways. The main draw was postponed again to September 27 after a spike in the cases rose during the time of the competition. Masks are required for every player, except for when they are on court. Line judges, ball kids, coaches, and fans must all be masked as well. Social distancing is also mandatory, and there is a capacity limit on the grounds and in the stadiums. No spectators were allowed in the qualifying rounds. Initially 20,000 spectators were allowed on the grounds (60% capacity), when a rise in Paris cases caused them to lower the number to 1,000 people on the grounds and 5,000 overall, by an announcement from the French government.
American Players
Eight American men's players made it to the second round at Roland Garros, including Taylor Fritz, Mackenzie McDonald, John Isner, Sebastian Korda (who got to play his idol Rafael Nadal in the fourth round, and asked for his autograph at the completion of the match), Marcos Giron, Jack Sock, Tennys Sandgren, and Tommy Paul, the most ever since 1996. Twelve American females made it into the second round including Madison Keys, Sloane Stephens, Kristie Ahn, Serena Williams (3 time French Open Champion), Christina McHale, Cici Bellis, Danielle Collins, Sofia Kenin, Bernarda Pera, Lauren Davis, and Coco Gauff and Amanda Anisimova, two rising teenage stars. 
Final Matches
The men's and women's singles competitors have played many tough, amazing matches in these last few weeks with only one American player left in the last rounds- Sofia Kenin. She will go against Iga Swiatek, the first Polish woman to reach a major final in the open era, on Saturday, October 10th. Iga defeated the #1 seed Simon Halep from Romania on her run to the finals. 
Novak Djokovic (Serbia, seeded #1) and the Spaniard, Rafael Nadal (seeded #2), have both made it into the semi-finals of this tournament. Novak will play against Stefanos Tsitsipas (Greece, seeded #5), and Rafael Nadal plays Diego Schwartzman from Argentina (seeded #12). Each match is set to take place on Friday, October 9th. 
Keep up with all live matches on Tennis Channel or online at tennischannel.com.
Sources:
Tandon, Kamakshi. "UPDATE: Only 1,000 Fans Permitted to Attend Roland Garros Each Day." Tennis.com, 24 Sept. 2020, www.tennis.com/pro-game/2020/09/roland-garros-seeking-government-exemption-hopes-welcoming-fans-paris-restriction/90934/.
tennis.com. "Roland Garros Announces Zones and Stadium Capacities for 2020 Edition." Tennis.com, 7 Sept. 2020, www.tennis.com/pro-game/2020/09/french-open-rules-movement-covid-september-roland-garros-annoucement/90565/.
"Draws." Roland, 2020, www.rolandgarros.com/en-us/results/SM?round=6.
Stats Perform News. "French Open Capacity Reduced to 5,000 per Day amid Coronavirus Spike." Sporting News, Getty Images, 18 Sept. 2020, www.sportingnews.com/us/tennis/news/french-open-capacity-reduced-5000-per-day-coronavirus-spike/vp7bzct5nzzk1im1lurn0bzzd.