Wintergirls by Laurie Halse Anderson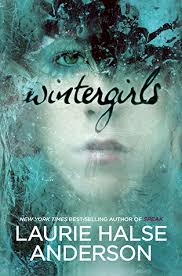 "Dead girl walking" the boys say in the halls.
"Tell us your secrets" the girls whisper, one toilet to another.
"I am that girl. I am the spaces between my thighs, daylight shinning through. I am the bones they want, wired on a porcelain frame."
The coroner is wrong. Cassie Parrish is not dead. Though her body is buried in the ground and her broken heart laid to rest, her spirit lives on.
"I would give anything to be comfortable in my own skin."
Lia is a wintergirl, a ghost with a beating heart, barely alive. Each day she starves herself, which grows almost completley unnoticed by her family. She sews quarters into her robe so they give her extra pounds on the days her stepmother weighs her. Her mother is away saving people's lives. Her stepmother is clueless. Her father is too busy at his fancy card games with presidents to notice if anything's wrong.
Cassie was a wintergirl. She binged and purged, and it killed her. The night she died, she called Lia 33 times for help, knowing she had little time to live and needed an ambulance. What's worse? Lia could've saved her. Cassie called her for help but Lia never picked up the phone and caused Cassie to die alone, so Cassie haunts her and visits Lia everywhere she goes.
The pressure is almost too much for Lia. Between believing that she is the reason Cassie died, and her stepsister looking up to her and thinking she's perfect, and her parents urging her to eat and weigh more, Lia's about to crumble under the pressure. But…Will she give in and change her mind completely about her body?
Pick up Wintergirls at your local bookstore or library today!!
I thought Wintergirls was amazing, honestly. All in all, I give it a 4.5 out of 5 star rating! I loved the style of Anderson's writing and I loved the way that Lia's pain was transferred to the reader. I half expected this to be a tearjerker, but it wasn't. When I got this book there were so many bad reviews so I was kind of nervous ordering it online. When I read the first few chapters I fell in love with the book! The only reason why I took away half of a star was because sometimes it seemed like the author was trying a little too hard to be creative and the parts that could have been fantastic were kind of, well…blah! I think anyone should read Wintergirls, if they're looking for a bitter, heart-wrenching story to read. I love this book, and the end was definitely satisfying!
"You're a wintergirl, Lia-Lia," Cassie brushes fake snow off of my cheek. "You're not dead, but you're not alive either."