DARKNESS IN SUN CITY
The Travels of Mr. Betancur
As opposed to most schools in the state of Texas, STAAR testing is seen as a fun and enjoyable experience by myself and the staff of iUniversity Prep. Not only are we guaranteed the ability to meet with our students face to face, but we are also guaranteed "vacays" all across the State. As a Texas virtual school teacher, I have given tests to students in Abilene, Amarillo, Ft. Worth, Lubbock, Stephenville, and now El Paso.
On April 20st and 21st, I was scheduled to administer the STAAR test in El Paso. This would have been my first trip to El Paso as an adult, and I was thrilled about going. I love the Southwest culture and the beautiful homogenization of both Mexican and United-Statesian cultures.  One of my favorite cities in all of the United States is Albuquerque, NM, and I have always understood El Paso to be somewhat similar.
To start my trip, I arrived at the airport about 1 hour prior to take off and was extremely disappointed to find that my flight had been delayed by 3 hours. This delay eliminated to potential of arriving to El Paso with the sun still shining. (Clearly a bad omen of the darkness to come)
I was most excited to visit El Paso to explore as many restaurants as I could. Food is one of my first loves, and I had previously received several recommendations of eateries to try.
I arrived to the hotel at around 9:30pm Sunday evening. With no clue where good food was to be had that late at night and no desire to use my cellphone, I got in the car and started to drive around. I stumbled upon Chicos Tacos, a restaurant that I had been told about on the plane, and felt that I had just hit the lottery. Apparently Chicos Tacos is considered an "institution" of El Paso and a "must do" while visiting. Chicos Tacos doesn't actually sell "tacos." I can best describe them as "crispitos" swimming is watery red liquid buried under a mountain of shredded cheese…. I thought to myself "when in Rome…" and ate everything that I was served. It wasn't good, nor was it bad; it just was. I have come to understand that local "institutions" rarely make any sense (have you ever tried a true Philly Cheesesteak? …. Seriously, Cheese Whiz????)
I went back to the hotel completely satisfied by my night and the fact that I checked off one of my "must do" items from my trip.
The next morning, a dark spell cast over my beloved Sun City. I woke up feeling miserable, cold, and with excruciating pain in my ear/head. My nightmare became a reality, and the weird feelings that I had had for the past few days in my ear was a full-blown ear infection. I had never had an ear-infection prior to this trip and was totally unprepared.
I woke up at 7:20 mountain time knowing that I would have to test at 10:00am. This meant that I had time to go check off another restaurant from my "to do" list. The Lunch Box was absolutely incredible. I loved it! I sat at a table and watched Sports Center and was pleasantly surprised when my server began speaking to me in Spanish rather than English (I look white and am thrilled whenever given the opportunity to speak Spanish). During breakfast, I decided to call my doctor and describe my symptoms to see if my fears were true… They were.
By 10:00a.m., I had already been to Wal-Mart and purchased the antibiotics prescribed by my doctors and had begun my downward spiral away from the sun. Testing went great, and I left the testing site with a clear fever and a full day's worth of ambition. I was in Sun City and didn't want to be slowed down by some trivial sickness, yet I was clearly sick.  I drove to UTEP (University Texas El Paso) to visit the campus. I LOVE UNIVERSITY CAMPUSES.
WHOA, what a beautiful campus built right into the mountains. The football stadium and the track stadium amazed me. Both bleachers seemed to be completed carved out of the mountain with the field surfaces glowing in the light of the sun.
While at the university, my fever had become undeniable, and I surrendered back to the hotel.  I recovered for a bit and then went out to dinner with several students and families from iUniversity Prep. It was a completely enjoyable experience, and I hope that I was able to mask how miserable I felt. Lol.
That night of sleep fulfilled my every definition of miserable. Shivering cold followed by dripping sweat is the most accurate description I can offer. The next morning I was in pure "survival mode" and had lost all ambition of experiencing anything else El Paso had to offer. During the STAAR test that morning, I actually threw up (a hilarious story that I hope the student shares for years to come).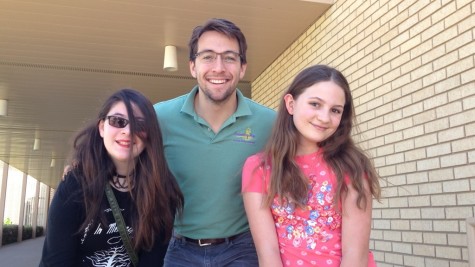 The rest of my Sun City experience was taken from the passenger seat of my rental car. I slept, tried to sleep, the entire afternoon in the parking lot of a mall near the airport. Arriving back home later that night felt long overdue.
What I did see of Sun City was amazing. El Paso is a beautiful town with a kind and welcoming culture. I loved visiting, and I hope that I am able to again.