THE SCORCH TRIALS: IS WCKD REALLY GOOD?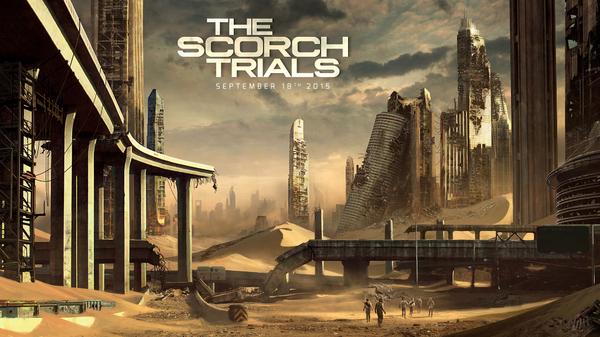 The Scorch Trials Trailer has not just fangirls like me, but everyone around the world in awe. The novel based movie is set to premiere on September 18th, 2015.
The Scorch Trials is the second in the series The Maze Runner by James Dashner. The book is jam packed with action, mystery, and surprises! As much as I'd love to let my inner fangirl loose and keep gushing about this amazing book, I'll control myself and focus on telling you about the trailer.
The trailer starts with flashbacks of the end of The Maze Runner, where Ava Paige, the head of WCKD (The organization that originally put the Gladers in the maze to test them for a cure to The Flare, a brain disease induced by solar flare radiation that causes violence and insanity) talking about how the Maze Trials were a complete success. She tells the audience that they, the Gladers, could be the key to everything. There is a clip of the Gladers running of a WCKD berg and into their head quarters.
Next, you see a berg flying over the Scorch, a land stripped of water, life and hope, but filled with storms, heat and dangerous Cranks, the humans infected by the Flare who have become beyond insane, as Dasher puts it, Past The Gone. You hear a voice over of Janson, or as Thomas calls him Rat Man who supplies the Gladers with information about WCKD and their intentions. You then see him walking down a hallway. He explains that the world is hanging on by a very thin thread. Leading the Gladers to a steel door, he says that beyond lies their new lives.
After that, you see Minho, a fellow Glader, and Thomas in a cafeteria filled with tons of other teens, boys and girls. Minho tells Thomas that they weren't the only Maze.
You then see a scene between Janson and Thomas. Janson asks Thomas what he remembers, and Thomas replies that he remembers being put into the maze, and watching his friends die in front of him all alongside flashbacks from the first movie. "Don't you want to understand?" Janson asks Thomas. He slides a document with WCKD's logo on it. "Do you want to understand why this all happened?" He tells Thomas he needs to know who's side he is on, WCKD's or…they leave you hanging!
You then see Thomas and Aris peering through a vent, leading to a hallway below them where WCKD workers are rolling an unknown object down. Thomas says "They're hiding something" and Newt replies with "You don't know that!" Several clips of Thomas and his fellow Gladers exploring the corners of WCKD while he explains that they never escaped the maze, it was just part of their plan. Teresa asks what WCKD wants from them. You then see several clips of the Glades breaking the glass to their windows and tossing guns to eachother, attempting to escape WCKD but getting caught by Janson. Thomas threatens to shoot Janson as he approaches them, explaining that the maze was one thing, but that they wouldn't last one day in the Scorch. Next, a clip is shown where a door to the hallway is closing. The Gladers are on one side where they are cheering Thomas on as he sprints and slides under the door, avoiding being trapped.
They escape WCKD's head quarters and find the scorch, where they hike up the sand dunes. Ava's voice can be heard again, saying that the course of their lives will determine their future, into light or into darkness. You can see. Many different clips are shown of lightning strikes, the Gladers running from unknown things, Teresa and who about to kiss, guns threatening them, Cranks attacking them, explosions, first aid, doors closing, some of the girls threatening the Gladers, the Gladers hanging upside down, more explosions and battles, Gladers falling from exploding buildings and much much more.
The trailer then ends with the movie title and date of release.
Look for this amazing book series in stores and make sure you see The Maze Runner: The Scorch Trials in theaters September 18!
CAST
Thomas — Dylan O'Brien
Minho  — Ki Hong Lee
Teresa — Kaya Scodelario
Newt — Thomas Brodie Sangster
Jorge — Giancarlo Esposito
Brenda — Rosa Salazar
Aris — Jacob Lofland
Janson — Aiden Gillan
Ava — Patricia Clarkson
Sonya — Katherine McNamara