MAZE RUNNER: THE SCORCH TRIALS MOVIE RECAP
The Maze Was Only the Beginning…
DISCLAIMER: MAZE RUNNER: THE SCORCH TRIALS IS A PG-13 MOVIE, AND MAY CONTAIN CONTENT DEEMED UNSUITABLE TO SOME AUDIENCES. 
This article may contain spoilers
Maze Runner: The Scorch Trials is the film adaptation of the second book in the young adult, New York Times bestselling The Maze Runner trilogy by James Dashner.
The movie starts off with flashbacks to our hero, Thomas', childhood, when he was taken from his parents by a government organization titled W.C.K.D. (called W.I.C.K.E.D. in the first movie). The organization was formed to take in and test kids who are immune to a disease called "the Flare", hoping to find a cure for the illness that brought about an apocalypse by driving people to complete madness.
After the flashback, we see Thomas and the other Gladers who escaped the Maze Trials, including Minho, Newt, Teresa, Winston and Frypan, herded into W.C.K.D.'s headquarters, where they are told by a worker for W.C.K.D. that they are in a safe place. Our heroes are escorted into a room where they freshen up (after all this time!) and run tests for health purposes.
Later, the Gladers discover that they were not the only Maze; that multiple groups of kids were tested. That night, Thomas meets Aris, a boy who was in a Maze just like his own. Aris shows him the W.C.K.D. doctors rolling tables of bodies into a room that they never leave. This sparks Thomas's worry and causes him to steal an I.D. card from a worker. Aris and Thomas sneak in to the lab and see many teenagers from the various Mazes being drained of their blood for an unknown reason. The pair finds out Thomas and his group is next.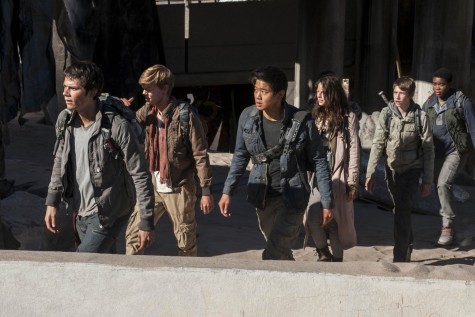 The Gladers and Aris make a hasty escape from W.C.K.D. and venture out into the Scorch, the area along the equator where sun flares burned the land. On the run from W.C.K.D., they come across many dangers such as deadly weather, gangs, and Cranks – people infected with the Flare. Our Gladers become allies with two survivors of the Scorch, Brenda and Jorge, who help lead them to an army resistance against W.C.K.D. But what happens when Thomas is faced by the ultimate test…betrayal?
This movie is packed with action and mystery, keeping watchers on their toes the entire time. Awesome battles and heart breaking emotional scenes make Maze Runner: The Scorch Trials an unforgettable movie, like no other.