CREWEL, BY GENNIFER ALBIN — BOOK REVIEW
Book One in the Crewel World Series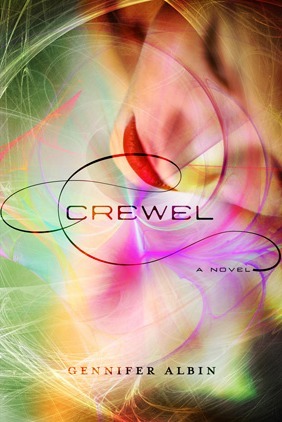 "Did you do it?" she asks in a breathless voice, skipping ahead of me. I hesitate for a moment…"No," I lie, and her face falls. "It's okay," she says with a resolved nod. "At least this way you get to stay in Romen. With me." I'd rather pretend she's right, than face what's coming. I have my whole live to be a Spinster, and only one more night to be her sister.
This book absolutely took my breath away. I finished all 400 pages in one sitting, and I was left in total withdrawal.
Crewel starts out with Adelice picking up her sister from her school, and spending an hour with her family, pretending everything's all right. Then they come, the minions of Arras, the government who decides what people like, how many children they have, and when they die.  As soon as they knock on her door, Adelice's parents try to hide her in a secret tunnel, but to no avail. Instead, they take her to Arras, where she'll train with multiple girls to become a Spinster, a privilege Adelice would trade just to be with her family again.
Having a main character who can use a loom to manipulate time sounds horribly cheesy, but Gennifer Albin makes it work. Crewel intrigued me in a way that I absolutely needed the next books in the series right away, and left me missing the characters. I welcomed and enjoyed the lack of the usual YA love triangle, and I rejoiced in the well-developed characters. Adelice Lewys is what all authors should want their MC (Main Character) to be – realistic.
Overall, I would definitely give Crewel a 5 star rating, and I would recommend it to everyone over the age of 13.