NEW YORK, NEW YORK
The City that Never Sleeps
This past summer, I had the opportunity to visit the city that never sleeps, good ol' NYC! Stepping out of the yellow taxi cab into the center of the living, breathing city was like stepping into a completely different country. People of all ethnicities and cultures, crowded the streets of Manhattan, taking pictures, riding bikes, and putting on street performances. Times Square felt like a theme park with the bright lights of the billboards and people in their wacky costumes taking pictures with the tourists. The first thing I did was fall into the tourist trap of taking a picture with "Elmo", who then proceeded to pull out a card that said, "We work for tips", and wouldn't let me leave till I gave him something. Who knew Elmo would play such a cheap trick?  There was so much going on in the square, my senses where completely overloaded with all the sights, smells, and sounds.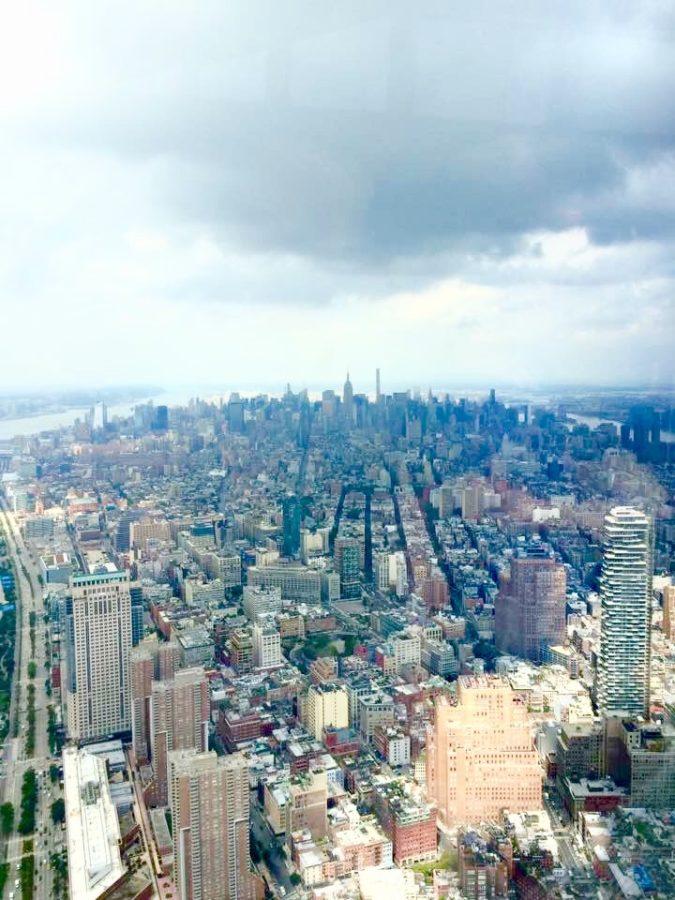 After we were done exploring Times Square, my family walked back to our hotel, a French establishment called the Sofitel, no less than a block from the square. It was only just past three, but we were all ready to take a break and freshen up. In the five days I spent in New York, I did for than I usually do in a month. While this vacation was certainly fun, it wasn't exactly relaxing. Everything in New York was fast moving, and there was a lot to do. I'll try to touch on as much as I can.
The Food: While, everywhere I ate, including the One Dollar Pizza place, was delicious, there were three places that rose to the top; Stardust Diner, Tony's Di Napoli, and Un Deux Trois. For those of you who have watched the television show, Glee, you might remember the Spotlight Diner some of the characters worked at towards the end of the series. The lively little diner where waiters serve you your food all while singing show tunes. Well, Ellen's Stardust Diner on Broadway St. is where the creators on the show got their inspiration. I Munched on my waffles (which where delicious btw), as the waiters stood on tables, walked across chair, and serenaded their customers. They sang anything from, Justin Bieber's, As Long as You Love Me, to Cabaret. One waiter even screeched like a monkey and beat on his chest as he sang a song from the movie Tarzan. If you're in the mood for a restaurant with live music, Stardust Diner is definitely a great option. The next restaurant, Tony's has officially ruined Italian food for me forever. Never have I had such a delicious Italian meal in my life, and I doubt I will ever have one that good again. Their family style platters, where filled with flavor throughout the entire meal. And not only that, but their prices where outstanding for the amount of food they gave you.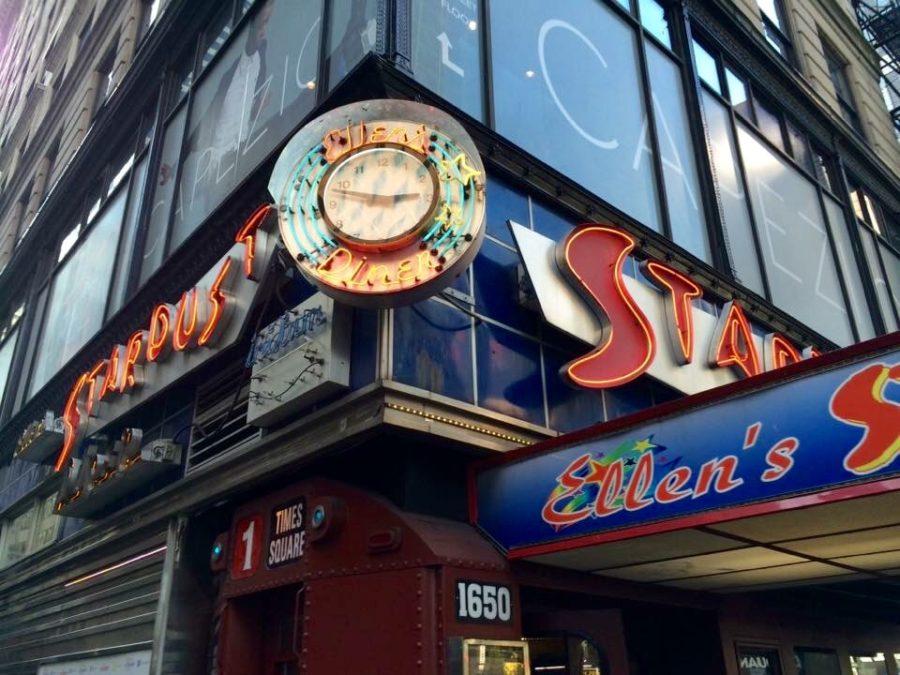 I might be a little to generous with this score but I would give this place a 10 out of 10 any day. Finally, the place so good I ate their twice, French restaurant, Un Deux Trois. This establishment was only just down the block from where we were staying, and was the perfect place to eat in the morning. Just like our hotel, the employees where all french. And while their food was delicious (especially the crapes), what really won me over was their coffee. Un Deux Trois can make a cup of Joe like no other.
The Entertainment: New York is known for their entertainment, from the street performances to concerts at Radio City Music Hall. My personal favorite has always been a good Broadway show. Because of my love for Peter Pan, I ended up choosing Finding Neverland. I was expecting excellence, I got more than that. The talent, the performers on Broadway have is unbelievable. The story of Peter Pan playwright, J.M. Barry and his beautiful mind was heartwarming and magical to say the least. I felt like a child again watching the little light of Tinker bell soar across the audience during the overture. I don't often cry watching shows but I felt myself tear up at the first chord and ball at the closing of the curtain. The story and the way it was portrayed was marvelous. I was lucky enough to see the show it's last running week on Broadway. I felt a twinge of sadness as I walked by the theatre on my last day in New York only to see people striking the stage and setting everything out on the curb. Luckily, the show is now going on tour this fall, and is visiting Dallas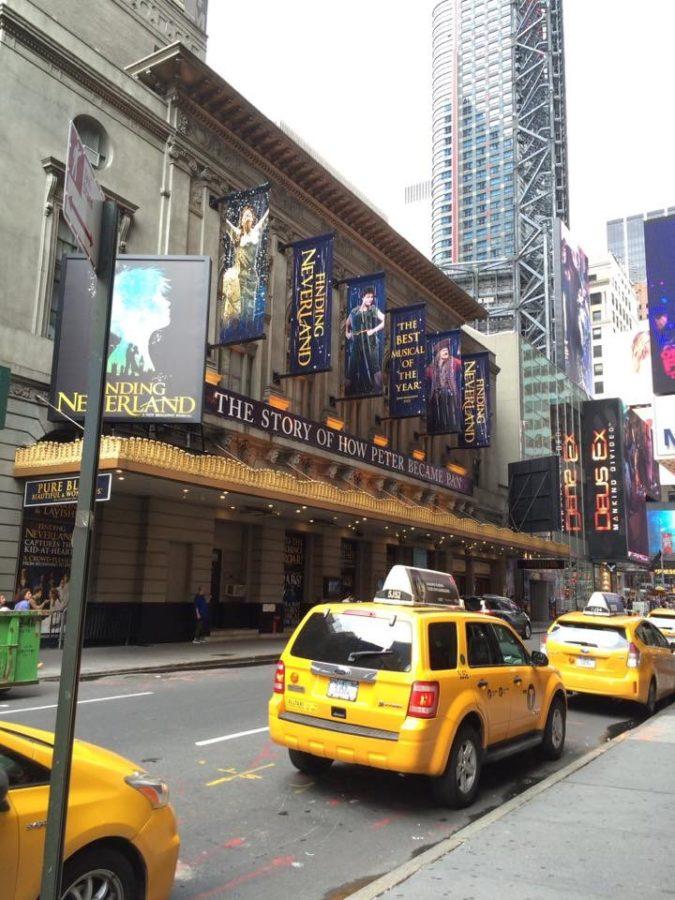 at the Winspear Opera House. I highly recommend going to see it if you can.
The Activities: There is never a dull day in New York. The place is loaded with activities to occupy your time. If you are planning a trip soon but want to save money, there are plenty of things you can do for free. With Central Park being 843 acres, you can spend an entire day there alone. When I was there musicians and artists flooded the streets. One artist even drew a portrait of my mom and kindly gave it to us for free. We also met the hosts of Fox news just outside the station, where they were hosting a free skillet concert and giving out free BBQ. If you want to go see the beautiful memorial at ground zero, it doesn't cost a cent. Even walking around the city and taking in all the sights is an activity in itself. Walking around China Town and Little Italy was like transporting to a completely different country. I got spent some time enjoying the culture in a little park in china town, listening to the locals sing karaoke and watching them play cards and checkers.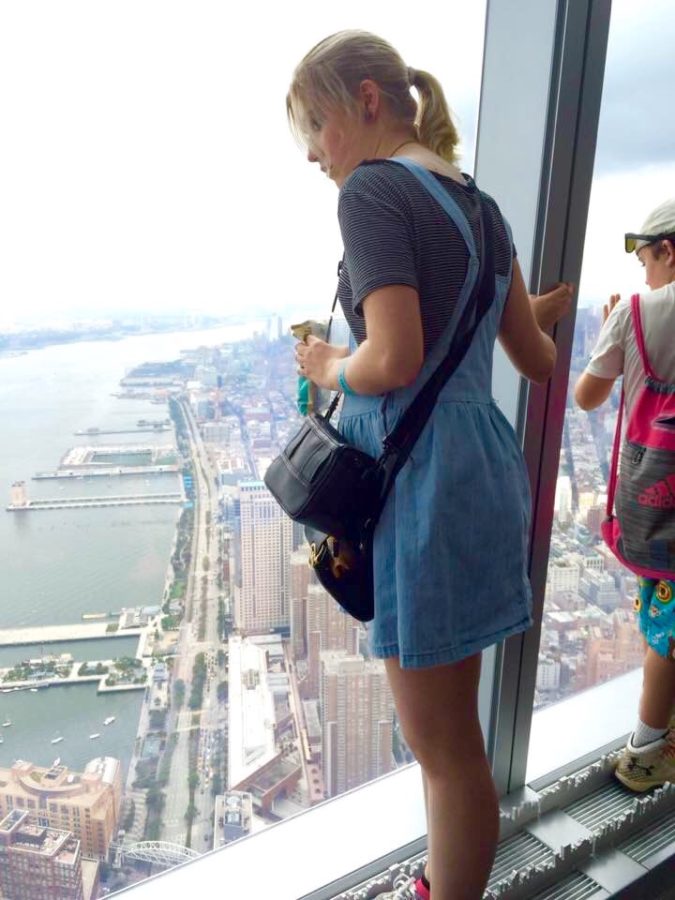 Visiting New York was a dream of mine that I never imagined actually coming true. It was an experience like no other. From the amazing food to the grand entertainment, to all the fun activities, it has become one of my favorite places on Earth. I hope that everyone would get to enjoy the magic of this great city.