KADE DAILEY
Finding the Perfect Angle
Meet Kade Dailey, 9th grade student at iUniversity Prep and Music Video Producer Extraordinaire.  You are probably eager to see his work.  Here is the video that he made: https://www.youtube.com/watch?v=rAFQcuG64GU
(You may have to log out of your student email account in to order to watch this video)
Have you ever watched a music video and wonder how they get that perfect angle or lighting? The probability of you noticing anything besides the singer and the music is pretty slim. That is because someone is working hard to make the singer look as good as they sound.  Have you ever wondered what it takes to make the music video?
Kade Dailey knows how to make a pretty awesome music video if you ask me. Kade has recently made a music video for the Grammy-nominated artist Ethan Kent! He has done things like this before but says that this was the more exciting experience because it was with a Grammy-nominated artist. Kade is only in 9th grade and has accomplished a lot!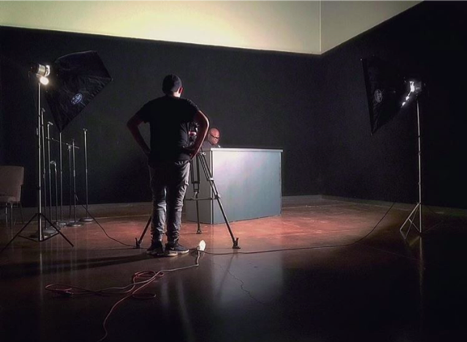 Imagine behind the scenes of a very popular music video.  You probably imagine a lot of cameras, spotlights, backgrounds, and probably a lot of people. Kade only had 2 lights and a camera and himself. This is really cool because a lot of people would just say "I don't have the equipment" or "I don't have the time" but Kade really worked hard and made it happen!
Taking the original video footage for the music video took a whole day! Only the best footage survived the edit, ending in a 4 and a half minute video.   It took a month to edit and add effects until it was just right. If you think that this sounds like a fun and easy job, you are only 50% correct. Although that is would be super fun, it would not be an easy job! Imagine the patience it would take, and the number of times you get that song in your head. It would basically become the soundtrack of your life for the next few weeks.
Here is the link to the video again, this time pay more attention to the lighting and angles: https://www.youtube.com/watch?v=rAFQcuG64GU
Did you find that you appreciate the video more? Try looking at your favorite music video and doing the same, now that you know more about the work that goes behind it.
We all know that iUPrep has the best students ever! There are tons of ways that our students are super-duper cool! What are you doing after school? If you want to be the subject of my next article, get in contact with iHoot through your student email!