WACO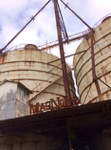 Last week, I traveled to Waco to audition at Baylor University. On the way I decided to stop at good ol' Magnolia Farms since I had not visited since they opened up their new bakery. Since the success of designers and reality TV stars Chip and Joanna Gains, Waco has become quite the tourist stop. Nearly everywhere you turn, there's a building that's been redesigned by the couple. Magnolia Farms has always been my favorite stop in Waco. This tourist hotspot can be spotted from miles away from the iconic silos, which are the pride and joy of Waco, Texas.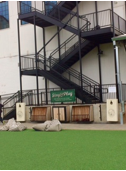 Once I arrived I decided to try a cupcake at the bakery. To my dismay, the line stretched outside the bakery and wrapped around the building. Thankfully, Silos Baking Co. had set up a system to make the lines move by quickly. We were all given menu cards like the one in the picture, to fill out and hand up front once we got inside. The inside of the bakery was extremely cute, but I expected no less from the Gains'. While waiting inside, Silos Baking Co. products, like T-shirts and mugs, lined the walls available for purchase. Luckily, the wait was only about ten minutes. I decided to try their Silobration cupcake, which was totally delicious.
Once I had my cupcake, I decided to walk around the outside area of the Farms. At the center of Magnolia was their Stay and Play area, a large grassy area for kids (and adults) to play and have fun. There were lawn chairs, swings, and bean bags chairs for staying and soccer balls, footballs, and bean bag toss boards for playing. And lined all along the farms were food trucks from all over Waco. My personal favorite was the Common Grounds truck, which had some incredible coffee, especially if you have a sweet tooth.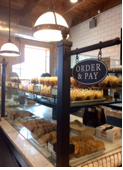 Finally, I went inside Chip and Joanna's store. If you love design, this is going to be your Disney world. At every turn, in every corner of the store, were all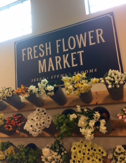 different kinds of decorations, paint, frames, curtains, household products, you name it. My favorite corner of the store was the Fresh Flower Market, which was lined all along the wall with beautiful flowers and flower seeds. I will definitely becoming back to buy a couple things here very soon. Overall, Magnolia Farms is a very charming little part of beautiful Waco, Texas. I highly recommend visiting the farms and checking out the rest of Waco as well.