HANNAH FAULKNER-10TH GRADE STUDENT OF THE MONTH
Cheers to Hannah Faulkner, who represents the selected sophomore for the April student of the month!
Hannah already has a grasp on her goals for the future, on track to capture the life of her dreams. If anyone can achieve the unthinkable, it would definitely be Hannah! She works relentlessly, taking on a monstrous curriculum, packed with high-level classes and dual language learning (Spanish 4 and first-year German classes). Even through Hannah's challenging courses, she not only maintains her focus but excels!
The iHoot team catches a glimpse of Hannah's marvelousness each week. She commands the troops as the Editor-in-Chief of the iHoot newspaper. It didn't take long for Hannah to fill the leadership role i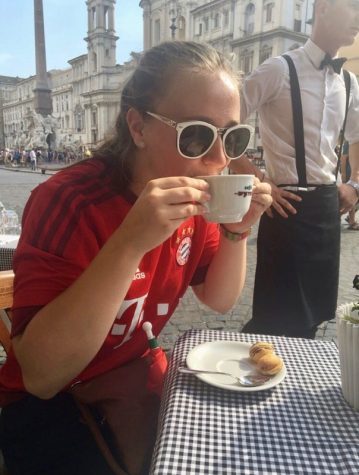 n the newspaper, in her first year with iHoot she worked as a Copy/Proofreading editor and created the College Corner section. Last year, she became the Editor-in-Chief, and, from her astute work, there was really no question who the position should go to this year. Thanks to her, iHoot runs with cohesion and excellence.

Her leadership role never ceases, even when she isn't running the iHoot virtual newspaper. In each of her classes, her teachers recognize her as a leader. Here is what they have to say about her:
Nicole Harbison (English/Journalism teacher): "Hannah is an incredible leader. She has been leading iHoot with maturity and grace since she was an 8th grader, and all the staff were seniors. She has an innate diplomacy about her that makes her a natural encourager and leader. I always know that her work in English class will be amazing, but, more than that, I truly enjoy her insight into literature and the goings on in the world. What is more, even with all the incredibleness that she is, Hannah is humble and always applauds the efforts and respects the opinions of her fellow students."
Laurie Alsobrook (Science/Art teacher): "Hannah is an exceptional all round student. She excels at each subject she undertakes to learn and makes it look easy but I know it is also the result of dedicated study and focus. 🙂 A natural leader, Hannah works to make each organization she is involved in better."
Lucas Burch (Speech/PE/Social Studies teacher): "There has yet to be a student at iUprep quite like Hannah. Her work ethic combined with inspired academic curiosity is unmatched. She has been quick to help classmates and teachers alike in building a place of education and higher learning that will stand long after she leaves. Her interests and knowledge have always encouraged me and challenged me as a teacher and lifelong learner."
Heath Hamrick (History teacher): "Otherwise known as Madame Secretary. My biggest compliment is this: on rough days, I can tell myself that, 'At least I still have Hannah in a class for the next two years.' More than anything, Hannah is a natural leader ( I wasn't surprised to see her jump right in her role as Secretary of State during the FENCES project, and take charge). I remember seeing her step up to help brief other students BEFORE the project started, and that is Hannah in a nutshell: she is not only a worker but a helper. She is AWESOMESAUCE :)."
Andres Betancur (Spanish teacher): "Thank you for following and nurturing your 'self-drive' and always demanding excellence from yourself, while remaining gentle and kind toward others."
   Hannah enjoys many types of music, ranging from alternative, pop, and rock, from around the world. Her wide scope of cultured music taste extends to her passion for language learning and traveling. This summer Hannah will travel to Russia, with the State Department, in a Culture and Language Immersion program, on a full scholarship. Let's just say, she always wears a superwoman suit, even during the summer and her off (but, not so off) hours. You can catch Hannah, maybe jamming out, while she volunteers at the AV department and local non-profit, helping immigrants settle in the U.S. 
Perhaps Hannah could seem intimidating, with her natural lead and motivated demeanor. But, as soon as she says a simple, "Hello, how are you doing?", you can instantly recognize what a sweet and encouraging girl she is. She becomes a friend and inspiration to anyone who has the pleasure of meeting her. Yes, even through virtual school.