MOCKINGJAY PART 1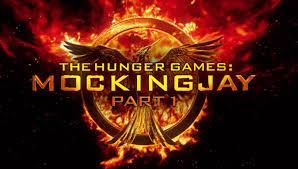 With Guardians of the Galaxy  still at the number one movie of the year,  what movie can overthrow it and be in the top spot for this year?  Only one movie can overthrow it and it's The Hunger Games: Mockingjay Part 1!
The Hunger Games:Mockingjay Part 1– The movie is set after the 75th hunger games, where we see Katniss shattered because she lost Peeta, her home district is destroyed, and she is living in district 13.  While in district 13,  her leader is President Coin. Her friends are there planning to make an attack on the Capitol and rescue her soul mate, Peeta.  Can Katniss and her friends rescue Peeta and take over the Capitol or will they die trying?
I recently sat down and visited with Tommy Martinez, avid movie-goer, about his thoughts on the upcoming movie.  Here's a portion of our interview.
IHoot: Tommy,  do you want to see Mockingjay Part 1?  Why or why not?
Tommy: I want to see the movie because going to the movies is an activity that my son and I enjoy doing together.  He is a big fan of the series.  Also, the last movie of this series was really good.
IHoot: What are we expecting to see in this movie?
Tommy: In this movie,  I believe you will see Katniss Everdeen start transforming from a symbol of hope to becoming a leader of resistance to the authority in charge.  I believe you will see Katniss Everdeen becoming a leader and developing a team to overcome the authority.
IHoot: I just have one more question for you, Tommy.  Do you think Katniss Everdeen will succeed or fail and why?
Tommy: I think she will start building the resistance in this movie. I don't see her failing or succeeding because I think this movie is more about developing a resistance to fight the authority in power.
IHoot: Thanks for your time,  Tommy.
Tommy: You are welcome.  I look forward to seeing the movie soon.
I too believe that we will be seeing Katniss emerge as a leader and gain the respect of the resistance forces.  If she will stay strong and determined, I believe that the resistance forces can defeat the authority in power.  Either way, it will be an epic battle between good and evil.  It could be the best movie of the Hunger Game series thus far, so I recommend everyone to see it opening weekend.
This concludes my Mockingjay Part 1 movie story.  However,  if you want to keep reading or  go to my bonus features, please do so below.  The bonus feature features the trailer for Mockingjay Part 1 and "Yellow Flicker Beat" from the Mockingjay Part 1 soundtrack.
Jacob's Bonus:
The Hunger Games: Mockingjay Trailer – "The … – YouTube