HAMLIN WINS WILD WEDNESDAY NIGHT RACE AT DARLINGTON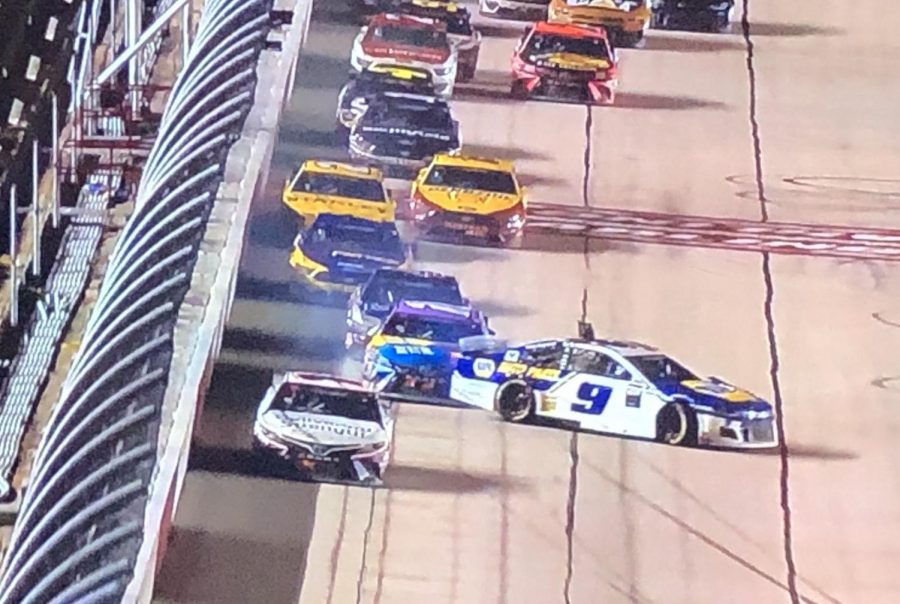 Denny Hamlin stayed out on old tires on a late caution for an incident involving Clint Bowyer, and was able to stay in front of all of the chaos behind him and win the rain-shortened Toyota 500k. The caution for Bowyer, who dominated much of the race and won the first two stages, occurred with 34 laps to go, and much of the leaders decided to pit for fresh tires, meaning that Hamlin's tires were 12 laps older than the rest of the leaders on a track where tires are of the utmost importance. On the ensuing restart with 29 laps to go, Hamlin got out ahead of the field and stayed there, and the race-ending caution came out a lap later for a controversial collision between Chase Elliott and Kyle Busch (more on that later!). Rain started to fall under the caution and NASCAR called the race 20 laps short of the scheduled distance, declaring Hamlin the winner, his second win of the 2020 season. "I've got my happy face on, made sure I brought it with me today," Hamlin said from inside his car on pit road, referring to a face mask depicting a huge smile. "The pit crew did a great job today, everybody really. I was pretty happy with how it all turned out." (Courtesy of nascar.com) The lap times were much faster, as the teams had a better idea of what to expect due to information gathered in Sunday's race, and the cooler temperatures meant that the track had more grip. However, it was still taxing on the drivers, as Darlington requires everything a driver can give, and Hamlin once again proved that he is among the best drivers with his win Wednesday night. "It's a driver's race track," said the three-time Darlington winner. "You can move around and you can do different things to make your car handle and we got it right today." (Courtesy of nascar.com)
As I mentioned earlier, Kyle Busch and Chase Elliott were involved in a controversial collision late in Wednesday's Toyota 500k. Coming to 28 laps to go, Busch turned right into Elliott in a battle for second and turned him into the inside wall, ending a promising run by Elliott, as he appeared to be the fastest car on track in the second half of the event. The incident looked intentional with the magnitude of the turn, as Busch suddenly made a sharp right turn into Elliott's car as he got right alongside him. That was certainly the opinion of Elliott and his team, as Elliott made an obscene gesture at Busch as he passed by under caution and Elliott's team gathered at Busch's pit box to settle things once the cars were brought down pit road, forcing NASCAR to enhance security in that area. Alan Gustafson, who used to be Busch's crew chief and is now Elliott's crew chief, discussed the matter with Busch after the race, and Busch was interviewed shortly thereafter. "There's no question. I know I made a mistake and just misjudged the gap," Busch said of the incident with Elliott. "We were racing there with the 11 (Hamlin) and the 9 (Elliott) had a run on him and I knew he was there and I knew I needed to get in line as quickly as I could and in doing so, I watched him and his momentum going by me and I tried to look up in the mirror and see where Harvick was (behind) and get in and I just misjudged it," Busch said. "I made a mistake and clipped the nine there and spun him in the wall. I hate it for him and his guys. I've got too many friends over there on that team to do anything like that on purpose. I've raced Chase since he was a kid and never had any issues with him whatsoever. It was just a mistake on my part and we'll just have to deal with it later on." (Courtesy of nascar.com)
The NASCAR Xfinity Series will attempt to race on Thursday at noon ET, as the race was delayed to Thursday after being rained out Tuesday night. The Cup Series will return to action on Sunday for the Coca-Cola 600, NASCAR's longest race and a crown jewel event, which will be at 6 PM ET on FOX.
Written on May 21st, 2020
Sources:
Cain, Holly. "Denny Hamlin Wins Rain-Shortened Race at Darlington: NASCAR." Official Site Of NASCAR, NASCAR Wire Service, 21 May 2020, www.nascar.com/news-media/2020/05/20/denny-hamlin-wins-rain-shortened-wednesday-night-race-at-darlington/.