VEGAN FALL RECIPES
Two of my favorite vegan recipes for the fall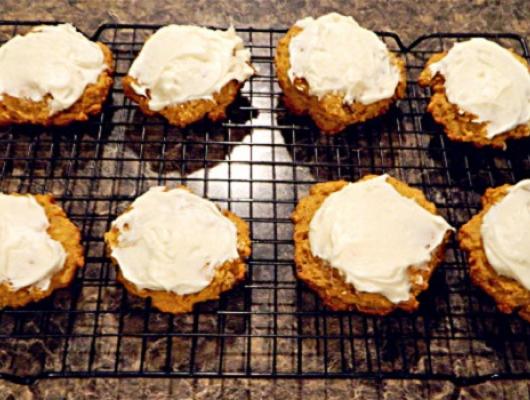 With the fall season coming in, it's important to stock up on as many recipes as possible! Isn't it crazy that we finally can say Happy Fall? What's better than fall recipes? Vegan fall recipes! 
One of my all time favorite fall vegan recipe is a vegan frosted pumpkin cookie. This is everything you imagine fall tastes like in a cookie.
For the wet ingredients:
3 tablespoons (45 mL) grapeseed oil
3 tablespoons (45 mL) pure maple syrup
1/4 cup (60 mL) unsweetened pumpkin purée
2 tablespoons (30 mL) brown rice syrup
1 1/2 teaspoons ground flaxseed
1/2 teaspoon pure vanilla extract
For the dry ingredients:
3/4 cup plus 1 tablespoon (83 g) almond flour*
1 cup plus 1 tablespoon (127 g) white/light all-purpose spelt flour**
3 tablespoons (27 g) arrowroot starch
1/4 cup (60 g) natural cane sugar
1 teaspoon pumpkin pie spice
1/4 teaspoon fine sea salt
1/2 teaspoon baking soda
For the Fluffy Pumpkin Pie Spice Buttercream:
1/4 cup plus 2 tablespoons (75 g) soy-free vegan butter
1 1/2 cups (190 g) powdered icing sugar, sifted if necessary
1/2 teaspoon pumpkin pie spice
Pinch fine sea salt
Cinnamon or pumpkin pie spice, for garnish (optional)
Directions:
Preheat the oven to 350°F (180°C) and line one extra-large baking sheet (or two medium-sized sheets) with parchment paper.
To a small bowl, add the wet ingredients: grapeseed oil, maple syrup, pumpkin purée, brown rice syrup, ground flax, and vanilla. Whisk until combined.
To a large bowl, add the dry ingredients: almond flour, spelt flour, arrowroot starch, cane sugar, pumpkin pie spice, salt, and baking soda. Whisk until combined.
Pour the wet mixture over the dry mixture (being sure to scoop all of the wet ingredients stuck to the sides of the bowl), and stir until it comes together into a dense, very thick dough.
The dough will be very sticky, but this is normal! Scoop a slightly heaping 1 tablespoon of dough into your hand, and roll it into a ball. Continue with the remaining dough, placing each ball onto the baking sheet about 2 to 3 inches apart. If needed, you can lightly wet your fingers during this process. Do not flatten the balls before baking as they will spread out on their own.
Bake the cookies for 12 to 14 minutes until lightly golden (I like baking them until lightly golden as the edges get a bit crispy during cooling). Cool the cookies completely on the baking sheet. To speed up the cooling process, cool the cookies for 10 minutes on the pan then transfer the cookies to the fridge until completely cooled.
Meanwhile, prepare the Fluffy Pumpkin Pie Spice Frosting: To a large bowl, add the vegan butter. Using electric beaters, beat the butter until smooth (about 30 seconds). Add the powdered sugar, pumpkin pie spice, and salt. Starting on low speed, beat until smooth and fluffy, gradually increasing the speed as the ingredients combine. It will look very crumbly at first, but it will eventually come together and become fluffy. If the frosting is still too dry, you can thin it with a tiny bit of almond milk (1/2 teaspoon at a time), and continue beating until smooth. If it's too thin, you can add a little more powdered sugar and beat again until smooth.
Spread the frosting onto the completely cooled cookies, and top with a sprinkle of cinnamon or pumpkin pie spice. Serve and enjoy!
Another not so sweet recipe would be a vegan chilli. This Vegan Chili is made with quinoa and black beans, needs only 10 minutes prep then right into the slow cooker! It results in a thick, filling and delicious chili. 
Ingredients:
2 1/4 cups vegetable broth
1/2 cup uncooked quinoa
15 oz can black beans drained and rinsed
14 oz diced tomatoes
1/4 cup chopped red bell pepper
1/4 cup chopped green bell pepper
1 shredded carrot
1/2 onion chopped
2 cloves garlic
1/2 small chili pepper
2 teaspoons chili powder
1/4 teaspoon cayenne pepper
1 1/2 teaspoons sea salt
1 teaspoon ground black pepper
1 teaspoon ground cumin
1 teaspoon oregano
1/2 cup corn kernels
Toppings
chopped avocado chunks
chopped green onions
shredded carrot
Vegan Cashew Sour Cream:
1/2 cup soaked cashews cashews soaked in water overnight
3 -4 tablespoons water
splash apple cider vinegar
1/2 teaspoon fine sea salt
1 teaspoon lime juice
Instructions:
Add the broth, quinoa, black beans and tomatoes to the slow cooker. Stir to combine.
Next add the peppers, carrot, onion and garlic, and stir, then add the rest of the seasonings and stir a few times to combine.
Set the slow cooker (Crock-Pot) to high for 2 1/2 to 3 hours or on low for 5-6 hours (for high, monitor the last 30 minutes and for low, monitor the last hour). If you like a chili with more liquid, do the 2 1/2 on high, and 5 on low. If you like thicker and just a little bit it is liquid, go with the higher number for each option.
These are my two all time favorite fall vegan recipes. Although there aren't too many vegans these recipes can be enjoyable for everyone. They are healthier options while still being comfort food. I hope you guys are able to try these and enjoy them as much as I do.