10 SPOOKY CLASSICAL PIECES FOR HALLOWEEN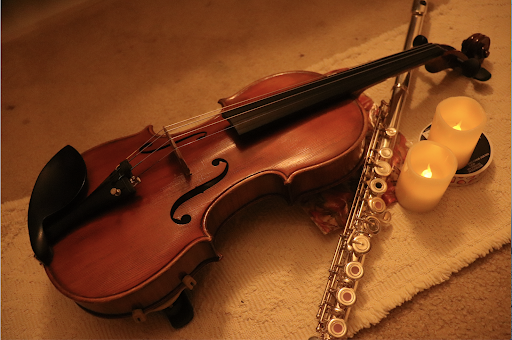 With Halloween getting closer, I've gathered ten spooky pieces of classical music you can enjoy on the 31st! Whether you will be spending this year's Hallow's Eve inside or outdoors, these mysterious classical masterpieces are sure to send a chill up your spine. Even if you're not able to go trick-or-treating or traipse through a haunted house this year, you can still experience the hair-raising chills that come along with this holiday. 
I highly encourage you to listen to the playlist linked so you can appreciate the descriptions of each piece. Seriously! Click on that link, bundle up under a blanket, and be prepared to be spooked by this classical Halloween playlist!
https://www.youtube.com/playlist?list=PLq4sTvDXk3pM2n286W4oGuJxDgp2jyObm
#1: Danse Macabre in Gm- Camille Saint Saens
A Halloween classic, Saint Saens' Danse Macabre is a must-hear. The title, Danse Macabre, French for 'dance of death,' is a foreshadowing of the eerie sounds in this marvelous piece. The first few bars introduce us to the grating sounds of a violin solo, creating the ghostly setting to the musical score. The xylophone melody throughout the piece makes me think of skeletons dancing, their bones knocking together. What can you imagine when you listen to this chilling piece?
#2: Dance of the Knights- Sergei Prokofiev 
One of my personal favorites, Prokofiev's Dance of the Knights is a dramatic, dynamic piece that is guaranteed to make you sway to its strong beat. Dance of the Knights is an orchestral piece- only one out of the entire Romeo & Juliet ballet! (A ballet has many pieces of music being played throughout the dancing performance)
This piece begins abruptly with the resounding sounds of horns and is later joined by the higher strings. The violins and flutes that carry the middle of the piece work to build up to form a scene of a theatrical confrontation of two enemies, the Capulets, and Montagues. 
(The Capulets and Montagues have sworn enemies in Shakespeare's tragedy.) 
#3: Concerto for 2 Cellos in Gm. Allegro- Antonio Vivaldi 
A piece played with only three instruments- a piano and two cellos- Antonio Vivaldi's Concerto is a strong, brash, melody that makes one think of horses racing in the middle of the night, their hoofbeats loud and heavy against the dark grounds of a forest. The countermelodies of the two cellos create an image of a forceful battle. Vivaldi's mastery in writing the piece for two cellos contributes to the eerie sounds, as the lower registers of the instruments relate a darker, fuller tone. 
#4: Entry of the Gladiator- Julius Fucik 
With Julius Fucik being a Czech conductor of military bands, there's no wondering why his music is so hard-hitting. The ascending chords of this song begin in a major key, but it descends in an eerie minor chromatic scale. One might hear sounds of a fair or carnival at first, but then the middle of the piece brings us right back to a more violent, crashing scenario. The song, aptly named, reminds one of a gladiator entering the bloody arena in the distant past of Rome. 
#5: Ride of the Valkyrie- Richard Wagner
One of the German composer's most famous oeuvre, Richard Wagner's Ride of the Valkyrie is a phenomenal orchestral piece. The entry of our valkyries, which are female warriors in Norse mythology, is prefaced by a magical sounding introduction. I was hooked when I heard the first four bars of this piece! The score encapsulates a valkyrie's image well, with intimidating horn and brass melodies that rise above the orchestra. The harmonic minor descending scales display a creepy mystical vibe, and the grandiose horn sounds make for a majestic, bold piece of work.
#6: In the Hall of the Mountain King- Felix Mendelssohn 
The sinister pizzicato of orchestral strings in Mendelssohn's piece is an iconic sound to most musicians. Even if you aren't an avid classical music listener, you've most likely heard this song. This German composer created a masterpiece in his 'Hall of the Mountain King ',  somehow painting an extraordinarily vivid image of a king's dark castle. Listening to the detached notes or string pizz, one may imagine the dim hallways of this mountain king's castle dripping water or even an intruder that has entered the dark castle and is tip-toeing about. Near the end, the piece speeds up significantly, crescendoing into a clashing, crashing sound. The nearly-deafening clanging of the cymbals makes me think that the aforementioned intruder is being chased by this Mountain King! What do you see when you listen to this masterpiece?
(Pizzicato is the plucking of stringed instruments, as opposed to using a bow to play)
#7: Baba Yaga, Op. 56- Anatoly Liadov 
Written by Anatoly Liadov, this Russian composer takes one of his country's most notorious nightmare characters and portrays her through music. In Russian culture, Baba Yaga is an old witch lady who kidnaps and eats her child victims. The first chords of this piece shock you, already creating an ominous theme for the piece. The quiet horn sounds build up to a loud, crashing melody with creepy string and woodwind trills. While listening to this piece, I immediately imagined an old spinster chasing a child. The piece crescendos bit by bit, and the ending beats of xylophones give an even more ghastly impression of skeletons running amok a darkened forest.
#8: La Boutique Fantasque: Tarantella- Gioachino Rossini 
Another masterpiece by a Russian composer, La Boutique Fantasque: Tarantella is a spine-chilling work of art. The first rapid minor scales of the piccolo that introduce this piece made me instantly imagine an evil jester with an overly high pitched voice running about, terrorizing people. The high pitches of the flutes emphasized this image of a poltergeist elf. The violin solo brings in minor scales, culminating into a sinister sensation.
#9: Night on Bald Mountain- Modest Mussorgsky
The eerie beginnings of this Russian composition include fast violin and piccolo scales that usher in an ominous-sounding horn melody. Later interjections of these horns create breaks in the music make it an abrupt, hair-raising piece. The scurrying sounds of the violins create imagery of bats fluttering throughout a shadowy sky. The overall melody and crashing of percussion and woodwind instruments create a sound reminiscent of a dark, overbearing force that canvasses a listener's ears.
#10: Requiem, Dies Irae- Giuseppe Verdi 
Dark scary chords mark the beginning of this orchestral funeral mass, and the sounds of human stomping exacerbate the macabre sounds of this opera. The first time the choir comes in, listeners are exposed to a deathly-sounding chorus alongside the forceful sounds of the orchestra. The minor chords sang by the choir create a chilling atmosphere for listeners. The interjecting sounds of the full choir voices produce a ghastly setting, hence the name: Dies Irae, Latin  for 'day of wrath.'
#11: (Honorable Mention) Rite of Spring- Igor Stravinsky
A piece so avant-garde it was said to have caused riots on its premiere, Stravinsky's rite of spring produces chords of dissonance, lovely yet unnerving melodies, and a large variety of dynamics. When listening to this piece, it is impossible not to imagine a creepy ritual that might invoke unearthly creatures. Stravinsky creates vivid imagery of eerie happenings that will have you bundling up under your covers!  
Within this list, many of these pieces are some of the most renowned masterpieces of classical music. These utterly astounding pieces of art have lasted for more than a few hundred years and still are enjoyed by classical musicians and enthusiasts today. But whether you are familiar with Mussorgsky or not, you will still be able to enjoy these mysterious and dynamic works of art! 
I hope you all enjoyed these spooky Halloween pieces of classical music!
(Let me know which piece you enjoyed the most in the poll (or comments ) below!)
About the Writer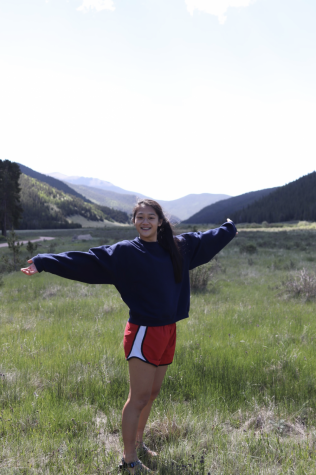 Nhi Nguyen, Feature Editor
Hi guys! My name is Nhi Nguyen and I'm a Senior this year at iUniversity Prep. This is my first year in iHoot and I'm so excited to be the editor for the...