TOP TEN HAPPY CLASSICAL PIECES
Classical music to make your day
Are you in a bad mood? Are you feeling down? Well, did you know that it's been proven that listening to happy music can cheer you up? It's true!
I can attest to this! Just last night, I was in quite a sour mood. I was tired, sore, hungry, and stressed. Then I sat down to write this article. While listening through this 'Happy Classics' playlist, my mood gradually improved, and by the end of the playlist, I was in great spirits. I went to bed feeling excited for the next morning. 
Here are ten pieces of classical music I've compiled in hopes of brightening your day. I hope you can enjoy this playlist as much as I was able to!
https://www.youtube.com/playlist?list=PLq4sTvDXk3pMAW6kubbpwusSglQ88-tSM
Violin Concerto BWV 1042 in E Major- Bach
One of Bach's most famous violin concertos, this piece is a masterpiece of dynamics, countermelodies, and virtuosity. As a musician, it is impressive and exhilarating to listen to. I can't help but appreciate each performance of this concerto; this piece is quite challenging, yet so delightfully enjoyable!
Can Can is very commonly known due to it being a mnemonic for the 'Periodic Table Song'. Students all around the world are able to memorize the entire expanse of the elements on the Periodic Table while singing along to Jacques Offenbach's Can Can. This piece is an animated, perky piece complete with the crashing of cymbals and complex, lively melodies. 
Sonata for Two Pianos in D Major KV 448- Mozart
This classical piece is one of my favorite piano pieces of all time! It has not only one, but two pianos conjoined to create a thrilling, dynamic sound that is a joy to hear. With two pianists playing in tandem, the countermelodies are exquisite. One can imagine the hours of practice it must take for two pianists to perfect this piece to be able to play flawlessly on time and with each other. This sonata is a must-hear for everyone!
Symphony No. 4 in A Op. 90- Mendelssohn
With the higher strings' melodious entry, Mendelssohn's 4th Symphony creates a lovely lilting theme. The first violins and cellos carry the melody of this piece, with the clarinets and oboes creating a beautifully juxtaposed countermelody. Later, the melody is undertaken by the clarinets, trumpets, and flutes. With its variety of dynamics and instruments, this lively piece is a joy to listen to.
With its first chords, Johann Strauss' classic Radetzky March ushers in a youthful, bouncy melody of horns. This march is such a classic 'carnival' song. Listening to this song, I can't help but think of the circus, with its colorful ribbons and decorated tents; the circus members prancing about in their flamboyant costumes.
Named after the famous Danube River in Europe, The Blue Danube is a beautifully composed piece. Its serene beginnings bolster in a vivid image of a gently tumbling river. The entry of majestic trumpets and french horns paint a resplendent picture of waterfalls and sparkling rivulets. This piece brilliantly encapsulates the image of the great Danube River of Europe.
Tritsch Tratsch- Galopp Polka- Strauss
A flitty, high-speed piece, Strauss' Tritsch Tratsch is a piece to energize. When I hear this piece, I think of children running about, excited to get free candy. This score is not very lengthy, but its exuberant melodies will spark up your day and surely lift your spirits.
Three Bavarian Dances, Op. 27 Edward Elgar
Edward Elgar's Three Bavarian Dances begins with a sweet, soft melody, and transforms into a grand symphony of resounding cymbals, majestic horns, and dynamic strings. This piece is sure to get you into a better mood with its fast pace and bouncy countermelodies of the oboes and strings. 
Le Nozze di Figaro K. 492: Sinfonia- Mozart
With an abundance of sudden dynamic shifts, Mozart's Sinfonia is a zesty, dramatic musical score full of life. Its brisk speed, along with the crisp complementary tunes of the strings and the lower horns bring about an effervescent sound.
Serenade in G Major: Eine Kleine Nachtmusik K.525- Mozart
Mozart's 'A Night of Music' is a classic you have surely heard before. This piece, with its energetic tune and fluctuating dynamics, has a lively melody. A piece carried by the higher strings, this piece flows in light and jaunty tune. A classic that is famous worldwide, Mozart's sprightly melodies in this serenade are sure to brighten up your mood.
How did you like these pieces? Please tell me in the comments below! I hope you can listen to this playlist and enjoy each of these pieces picked especially to brighten your mood.
About the Writer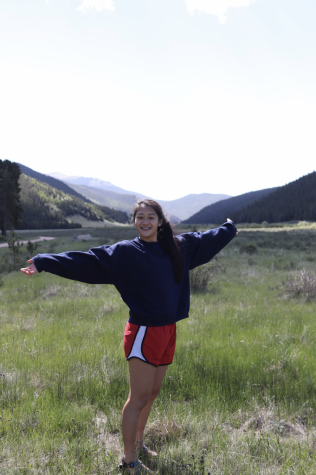 Nhi Nguyen, Feature Editor
Hi guys! My name is Nhi Nguyen and I'm a Senior this year at iUniversity Prep. This is my first year in iHoot and I'm so excited to be the editor for the...