CHRISTMAS MOVIES
Are you unsure of what to do over the holidays, especially during the pandemic? Times during the pandemic can be hard, and exhausting. Some people are stressed after a long day and some people may need time to relax, and to unwind, but what do you need to do? What can you do?  Well, maybe I can help!
Why don't you watch a movie? There are hundreds of movies to choose from, even during the Christmas season! Watching a Christmas movie can put you in the Christmas spirit and feel ready for the holidays. In my opinion, from what I've seen, Christmas movies always make a lot of people happy. This can also be a family activity! So grab your sister or your brother, maybe some friends too, and go enjoy a fun Christmas movie!
But wait! Which movie are you supposed to choose? Which movie is the best one? Which one will intrigue you the most? I have made a google survey and had some of my friends and classmates fill it out to get their opinions! Look below!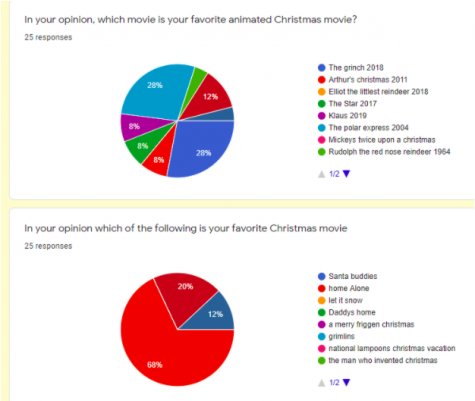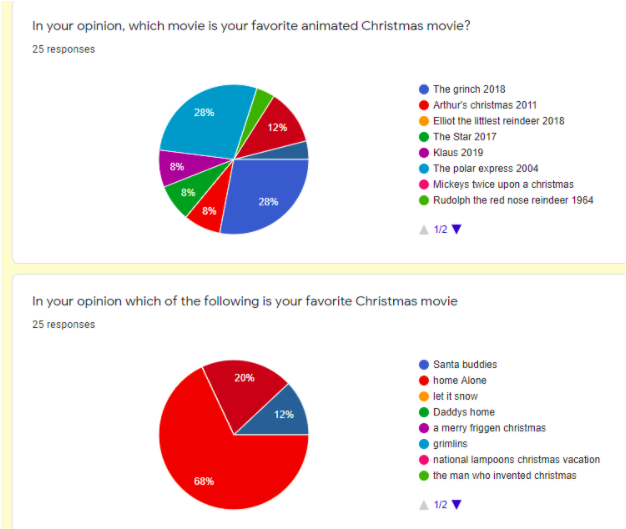 So, we can see in the first image that there is a tie in the animated movie section: The Polar Express from 2004, and The Grinch from 2018. The third best was Charlie Brown's Christmas. Therefore, I would recommend watching one of the three. Now, looking at the next image, we can see that there is a huge percentage of one movie, and that movie is….. Drum roll, please……… Home Alone! Personally, for me growing up, Home Alone was always one of my favorite movies to watch! You never knew what was coming next. The other two movies were the Elf movie and the The Nightmare Before Christmas, which came in third! I have seen both of these movies as well and have enjoyed all of them!
I hope this survey has helped you, and that you have fun watching a Christmas movie with your family!