WHITE SANDS
New Mexico is a wonderful place and lots of people enjoy it but you may want to AVOID going in summer unless you have a wish to be slow-cooked. In fact, some of our Owls have been! Makenna Horne, an 11th grader, went several years ago, and Amirah, in 8th grade, states that "It was on a road trip and we were just passing by but they had a nice gas station!" However, none of our Owls' responses said that they had gone to White Sands National Monument, a truly memorable place. Fortunately for you readers, I have.
We (me and my family) went during the summer of 2019, on our vacation to New Mexico. It was VERY hot. We drove into the park and stopped in the visitor's center. It was made of stone, and it was cool inside (a lifesaver). We bought a patch to put on my Girl Scout vest and kept going.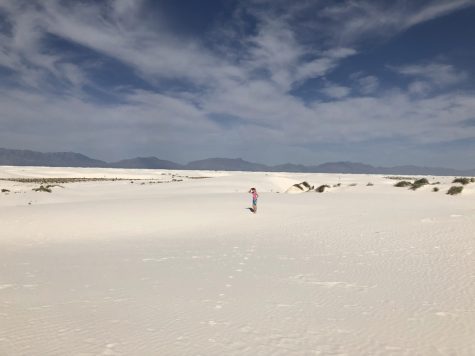 Along the first stretch of road, there were no parking lots, but there were little parking slots for 4 cars, parallel to the street. We parked in the third one and started walking around. First, we walked on a boardwalk through the desert that had information about the animals, plants, and sand. The sand at White Sands is made of Gypsum, not regular little rock pieces. That's why it's white. We saw some paw prints in the sand by the boardwalk as well, and I became glad we were not there during the nighttime.
Next, we walked around a little bit, though we were careful not to get lost. Everything looks the same out there, so if ever you go, be careful. Take a compass or something. GPS would also do. I made a sand angel, and the views were beautiful. It was so hot on top of the sand dunes that our shadows actually had a VIOLET OUTLINE, with green and other colors like you see in the sun spots in cameras. A VIOLET OUTLINE! It was really cool and pretty.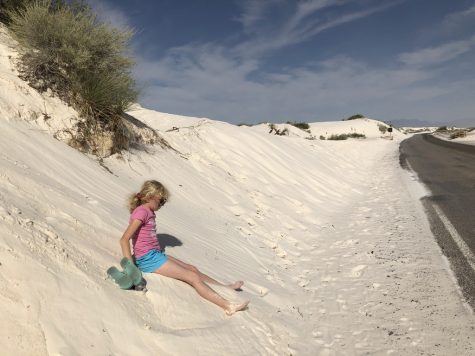 We drove on, stopping again in another nice spot. This one had a big parking lot, and giant dunes the size of hills. At the base of the dunes, in a big ring around the parking lot, a sand plow had come and made little barriers of sand, so when people went sledding they wouldn't skid into the road and get run over. Another family was at the top of the dune we chose, and they were sledding down. We hadn't brought any sleds, but the family let us borrow some of the ones they had rented from their hotel. The man put some resin on the bottom to make it go really fast, and I sled and sled down that dune-like there was no tomorrow. It was really fun, except for the hike back up on unstable sand. I sled over and over. Then we had to go.
So that is my trip to White Sands National Monument! Overall, I would really recommend the experience, but if you go, you MUST take something to sled on. Inner tubes and cardboard work, it doesn't have to be fancy. Enjoy!