VISITING ALL 50 STATES
A Look Into Students' Travels Across the United States and Benefits to Traveling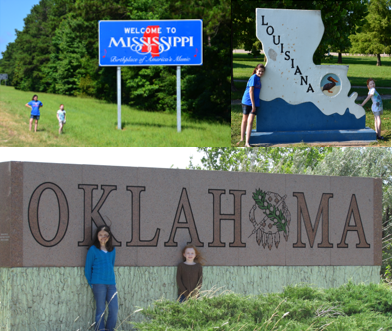 How many states have you been to?
When I was 6 years old, my family and I went on a Disney Alaskan cruise. By that time, I had already visited 13 states: Texas, Oklahoma, Arkansas, Louisiana, Florida, Washington, Oregon, Idaho, Kansas, Wyoming, Utah, Colorado, and finally, Alaska. Alaska and Hawaii are the two hardest states to visit since they require travel by plane. Since we already had one of the two hardest down, why not aim for the rest? That is when our adventure to visit the rest of the 50 states began. 
Between 2011 and 2015, we visited states 14 through 49, going on family road trips across multiple states every summer. In order to cross a state off the list, we had to step in the grass. Therefore, driving past or flying over a state didn't count. Every time we made it to a new state sign on a road trip, we would all get out of the car to step in the grass and take a picture in front of the state sign. Only one state was left: Hawaii. My dad planned our vacation and in the summer of 2016, we made our way to the airport to visit the final state. We weren't sure if the islands in Hawaii that we were visiting would have grass, so we made one exception in which walking on the sand would count for visiting the state. However, on the Big Island, we were able to find some grass to "officially" count the final state. In just a few years, we accomplished our goal of visiting all 50 states. 
Being able to say that I have been to all 50 of the United States is amazing. It takes quite some time and perseverance, but everyone, just like the little 6 year old me, starts somewhere. Let's take a look into how many states some of iUP's students have been to! Of the students interviewed, the student who had visited the most states was 5th grader, Sadie, with a whopping 18 states! Sadie is almost halfway to having been to all 50 states! Besides Sadie and me, the other students interviewed said they have been to 2 to 9 states. 
Which state is your favorite?
Personally, my favorite state was Hawaii. Whether it was because I was older and could remember and enjoy the vacation or another factor, Hawaii was filled with so much fun. From staying at a house in the rain forest to swimming at a hotel with 7 pools, it was an amazing experience! 
Of the students interviewed, California and New Mexico were fan favorites. A.F. said that "[Her] favorite state is New Mexico since it has lots of great things, Like Inn Of The Mountain Gods, Lincoln National Forest, White Sands, and Carlsbad caverns." Yadiz Martinez and Sadie both loved Colorado. They enjoy the scenery, especially the mountains. 
Why is traveling important?
Although not everyone has the opportunity to travel across the United States or beyond, there are many benefits to traveling to a multitude of places. My dad would often take my family to historical sites to learn more about history. This was not something I was appreciative of when I was younger, but it is a great opportunity to educate yourself on different things throughout history. For example, in Philadelphia, we visited Independence Hall. We learned about the Declaration of Independence and the United States Constitution. There were also copies of these documents and I remember my mom reading them to my sister and me since we were too young to read in cursive. It was amazing to learn about the history of how the United States came to be!
In addition to learning about history, there are actually many health benefits when it comes to traveling. Not only does it expose you to new things and experiences, but it makes you happier and relieves stress and anxiety. Interestingly enough, traveling rewires your brain by building new neural pathways. As a result, you become more creative and happier.  
Conclusion
Whether you've visited 2 states, 18, or all 50, traveling across the country can be so much fun. Regardless of if you have a goal to visit all 50 states, all 195 countries, or you just travel occasionally, traveling can be an amazing experience for anyone, anywhere. 
Works Cited: 
Christian Eilers December 7, 2020. "Why Is Travel Important? Here Are 7 Important Benefits of Traveling." Goodwall Blog, 16 Mar. 2021, https://www.goodwall.io/blog/benefits-of-traveling/.
Herbert, Lilly. "Why Traveling Makes You Happy: 7 Reasons Backed by Science." TravelTriangle, 17 Nov. 2021, https://traveltriangle.com/blog/traveling-makes-you-happy/.