MOVIE REVIEW ON MINIONS: THE RISE OF GRU
My opinion and another student's opinion on the movie.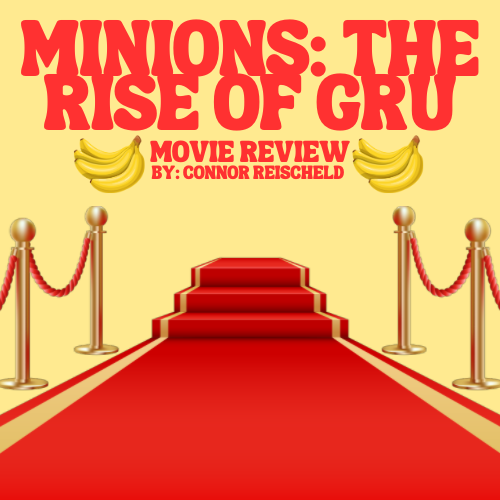 Introduction
I wrote this article to show my opinion on the newest Minions movie, Minions: The Rise of Gru, along with opinions from another student here at iUP. Minion: The Rise Of Gru takes us back to when Gru was still a child and it takes place right after the original Minions movie. The movie is made by Universal studios and is rated PG.
Synopsis (No Spoilers).
This movie is directed by Kyle Balda, Brad Ableson, and Jonathan Del Val. The movie takes place when the Minions first discover their new master, Gru, and attempt to help him achieve his goal of becoming the greatest supervillain in the world. The main villains in the movie are, of course, Gru and his minions, but the people against Gru are known as the Vicious 6, who now had a vacant spot available after one of their members betrayed the leader after stealing an incredibly powerful stone. Gru auditions to become the newest member of the group, but the Vicious 6 in the movie didn't accept Gru because he was too young. After Gru was rejected from the Vicious 6, he decided to take matters into his own hands and steal the almighty powerful stone himself. If you want to find out what happens next, you can watch the movie yourself in the comfort of your own home. In my opinion, Minions: The Rise Of Gru is a great movie. It is fun for the entire family and it is bound to make you laugh out loud.
Interview 
I interviewed Kaylee Dowdy, a 5th grader here at iUP, questions about the movie that she answered. Listed below are the questions:
1: What is your overall rating on this movie 1 through 10 and why?
2: Do you suggest that students should go to a movie theater to watch it or should students watch it at home?
3: Do you think the movie is overrated, underrated, or properly rated and why?
4: Do you recommend that other people at our school should watch it?
And below is Kaylee's response:
I would rate the Minions Rise of Gru a 10 because it is a really good prequel. Some prequels I have seen just don't  relate back to the real movies but this one connects back well with all the other Minions movies. I think it is really just up to the students if they want to go to a movie. It is great but viewing at home is still some people's preference, But ultimately, I would recommend watching it at home! I think it is well rated because it is a wonderful prequel and it is an amazing movie overall. I do suggest other students at IUP should watch the movie. I would suggest watching it at a family movie night because it is well rounded for all ages!  
Conclusion 
Minions: The Rise Of Gru is a fun watch for the entire family. For those who want to watch the movie at home, you can watch it on Netflix. Kaylee and I are both in agreement that the movie is great, and we would highly recommend you to watch it when you get the chance.
Sources:
https://www.nytimes.com/2022/06/30/movies/minions-the-rise-of-gru-review.html#:~:text=Rated%20PG%20for%20action%2C%20violence,In%20theaters.