SPRINGFIELD ILLINOIS- LINCOLN'S HOMETOWN
A look into my Thanksgiving travels!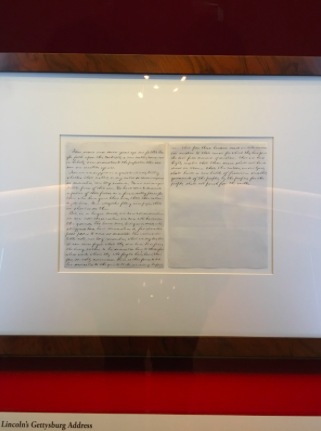 Denise Soerens, Associate Editor
December 8, 2017
This most recent Thanksgiving, my family continued our yearly tradition of traveling up to Illinois for the Thanksgiving holidays! We've made the trek by car every year since I remember- though traveling from Wisconsin and Illinois were surely shorter drives than Texas!
Since my sister brought her brand-new husband this year (whom the photo credits go to), we visited some of the historical sights Springfield has to offer. Many don't know this, but Lincoln considered Springfield to be his hometown, despite being born in Kentucky. Springfield was where he truly grew up and where he gave his farewell address as he went off to the White House to begin his presidency. My brother, sister, brother-in-law, cousin and I all went to the Lincoln Historical Museum and took a tour. Complete with life-like wax figures, it was certainly an interesting experience. I think the weirdest part was the room where recordings of children laughing were played to represent Lincoln's pair of rowdy young sons who were prone to mischief.
Near the end of the tour, we got to see one of the original copies of the Gettysburg address. Yes, one of. Lincoln actually wrote out five copies of the address, and one of them sits in his Illinois museum. The featured image is the photo we got of it! All-in-all, my trip to Springfield was joy-filled as always. My cousins have the sweetest foursome of daughters, all with exponential amounts of energy. Spending time with family is always the highlight of the trip, and I'm so blessed to once again have my entire family make the trek up north. Let me know in the comments where you traveled for the Thanksgiving holiday!