POSSIBLE JOBS AT UNIVERSAL STUDIOS
Interested in a job at Universal Studios? Here are some possible jobs at Universal Studios!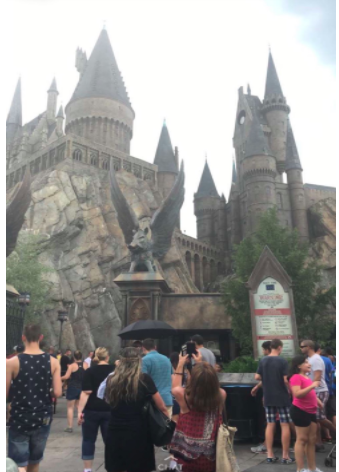 Hang on for a minute...we're trying to find some more stories you might like.
We all have that one undenying love for some sort of fandom, whether it be Marvel or Harry Potter there is a part of you that wants to be involved in that universe. Well, your wishes have come true because Universal Studios Orlando or Hollywood has got you covered. They have everything from being a superhero yourself to being a wandkeeper at Ollivanders, not to mention you can even work with some your favorite yellow men, which would be the minions. Now you're probably thinking, "How can I work in Orlando or Hollywood when I live in Texas?" No need to fret because I have the solution to this problem. They have holiday jobs that only last for a couple of weeks, so you and your family could go up to either park for the holidays and be able to live in your fantasy world for a short amount of time. Not to mention you may get a few extra dollars to spend around the park, since we all know that our parents don't want to spend all of their money while staying there. They also have summer jobs that can allow you to spend even more time at the park, I mean who doesn't want to do that? Now there are more than just your average jobs around in these parts of town making it a very easy place to find a job that works for your set of skills.
Universal is pack full of sales jobs due to all of the shops located all around the park, and most of them are in the theme specific areas making it even more interactive with the people who share the same love for the fandom as you do. This may include working at Honeydukes in Hogsmeade or the Dino Store in Jurassic Park. The list goes on and on for all the different sales jobs, and if you are interested in going to Orlando instead of Hollywood there are even more options due to the Diagon Alley add on that is not part of the park in Hollywood. With this addition people are able to work at places like Weasleys Wizard Wheezes or Gringotts Bank, which in my opinion is the best part of the park. Although sales is a huge part of the park there are many other jobs that don't involve selling products to customers. This could include dressing up as a character from that universe. There are always characters like minions, the Simpsons, and more. Not only do they have TV and movie characters walking around but they also have people like Marilyn Monroe and the Scooby Doo Gang up and ready to take pictures. Keep in mind though that that there are many other characters available to be, these are just a few that are available.
Due to the fact that Universal Studios is a theme park that would have to mean that there are rides that need to controlled. Every section of the park has different rides that have to be operated by somebody, and this could be an easy and job to find in the section you prefer. Operating a roller coaster may not seem like you cup of tea but if you are not a salesperson or a somebody willing to be a character this would be a great option to consider.
Lastly, there are the performing jobs for all those people out there who like to put on a show. They have everything from tricksters to a singing choir from Hogwarts. More of these jobs would include actors, singers, dancers, stunt performers, stilt walkers, musicians and more.Though this job may be the hardest to get into though due to the demand for everything to be perfect for every show, so that would mean a lot of auditions and rehearsals if you were to get the job. Though in my opinion it is the performers that make the park really special because it completes the whole aesthetic you want to feel when you are there. So even though it may be a long road to actually get the role, just remember you are the heart and soul of the operation.
Universal Studios is a great place to have the experience of a lifetime living in your fantasy world. Whether you are a sales person, character, operator, or performer working at a place like this will leave you feeling like no other. So if you are looking for a fun and interactive job for the Christmas holidays or over the summer Universal Studios has got you covered.