A BUCKET LIST LIFE
The life of a full-time traveling family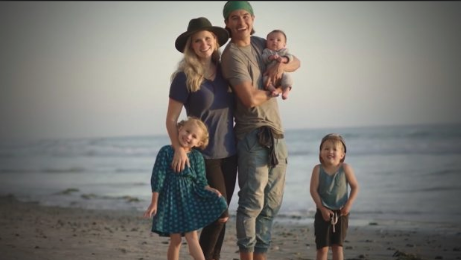 Hayden Harvey, Staff Writer
November 14, 2018
Imagine a life full of adventure, service, and culture beyond belief, a life full of so many amazing memories and worldly experiences. Well, the Bucket List Family has made this idea a reality. Three years ago, this family of five sold everything they owned to become a family of travel journalists and set out on an adventure around the world. They have now traveled to over 65 countries and have more joy than any family I have ever seen.
The Bucket List Family consists of Garrett, Jessica, Dorothy (6), Manilla (4), and Calihan (8 months). In 2015, this family made the difficult decision to leave their home in Provo. Utah to become a full-time traveling family. In August of that year, the family sold everything they owned, from their house, car, furniture, to most of their clothes. The only things they had were their three suitcases, their cameras, and an open mind ready for adventure. They set out with these simple goals. One of their main goals that they still emphasize today is the idea of living minimalistically and not finding happiness in objects but in experiences. They have really kept this idea in mind throughout their travels. They have now turned these ideas into their brand motto and logo of adventure service and culture. The red stripe symbolizes adventure, the blue one symbolizes service, and the green stripe symbolizes culture. When they left for their travels in 2015, the family created Instagram and Youtube accounts to keep their family and friends connected to them and to keep them updated. The accounts not only did this, but they ended up becoming so popular that everyone was watching The Bucket List Family. Their Youtube channel now has over 500,000 subscribers and their Instagram has 1.5 million followers. Because of this fanbase, the family has been able to continue their travels by getting sponsorships from airlines, hotels, and travel companies.
Along with their Youtube and Instagram, The Bucket List Family has also created a product called the Adventure Band. This product is perfect for any travel lover. It can be worn as a headband, used to clean cameras, and can be used to protect camera gear while traveling. The Adventure Band comes in 5 colors; red, blue, yellow, green, and white. These colors represent the prayer flags they have seen being used in cultures all across the world.  All the proceeds they make from this product goes directly back to a school they helped build in Nepal. You can buy Adventure Bands in sets or individually.
Now, you must be wondering all of the amazing places and things this family has been to and done. They started their journey three years ago at some of the most amazing islands. They went scuba diving in Bora Bora, stayed in a beautiful oceanfront bungalow in Fiji, and, most amazing of all, they went swimming with humpback whales. From there, they started part of their European journey. They stayed in a breathtaking farmhouse in the rolling hills of New Zealand. In New Zealand, Jessica and Garrett had the opportunity to go bungee jumping, which had been on both of their bucket lists for a long time. From there, they traveled the long journey to Thailand and Bali. They got to experience the beautiful lantern festival while visiting Thailand. Flash forward to late 2016 and the Bucket List Family tackled Asia where they visited Korea, Nepal, and Japan. One of my favorite places they have been was Mykonos, Greece. The family stayed in a stunning bungalow that was built into the mountains and had an infinity pool overlooking the ocean. They went shopping in quaint villages and had some of the most amazing food. Mykonos is now on my bucket list!
For the first time in three years, The Bucket List Family finally has a place to settle down and call home. Just two months ago, the family moved to Hawaii, where they purchased an old cottage that was redone by Old Home Love (A.K.A. Andy and Candis Meredith). The family has still set aside time to travel even after settling down. They have a week out of each month dedicated to going back to their roots of traveling. Since purchasing a home, the family has been to Greece, Disneyland, and Bhutan. I encourage you to explore more about The Bucket List Family and see if they inspire you as much as they have inspired me.