TOP PLACES TO TRAVEL DURING COVID
Places To Go If You Are An American Citizen
We all know that being stuck at home isn't fun. What if there was a way to escape the craziness and just relax. What if there was a way for you to take a stroll on the beach, or learn history in ancient temples , or even go hiking through the rainforests of South and Central America. 
Just because COVID is going on doesn't mean we can't travel still. Whether in country or out, in times like this, anyone could use a break. Some places, such as the UK, need a negative PCR test 72 hours before you board the plane, and then a quarantine that lasts 5-10 days, depending on if you will get a second COVID test on the 5th day. Other places, such as Mexico or Montenegro you don't need a COVID test or a quarantine. That's already better than some in-country flights to Chicago, where you need a COVID test to get into the state. Either way, getting a COVID test to get in doesn't matter as much as getting back, because as of January 26, 2021, the U.S requires a negative PCR or antigen test to get back into the country. This is making some travelers who got sick over vacation stay in that country for a quarantine, and they aren't allowed back to the U.S.
Also, traveling during COVID isn't always the perfect vacation you expect. After an interview with iHoot's own Eylee Pennings, she tells us about the precautions she had to take on some vacations. Here is some of what she had to say:"Due to COVID, we weren't really comfortable going by airplane, or seeing family or friends that don't social distance, and that influenced our trip heavily because we had to see some of them outside with masks on." That alone shows the difference in traveling during COVID. 
Now, what is the best place to go to for a U.S citizen? Before we get to that, we need to see what type of trip people like more: Beach, History, Mountains, or Rainforest. After a poll of 24 students here at iUniversity Prep, the majority like beach trips the best. That gives us a few options, places like the Maldives or the Bahamas are full of beachy places, while places like Guatemala or Mexico also have deep history to uncover with the Mayan ruins located there, along with beautiful beaches. That leaves us the question of: Where is the best place to go during COVID? After the survey majority of the respondents chose…….
The Bahamas!
The Bahamas is a place known for its white sand beaches and it's clear turquoise waters, perfect for snorkeling and scuba diving. The Bahamas is also home to the world's third largest coral reef, which is the Andros Barrier Reef. The Andros Barrier Reef is 140 miles long and is home over 164 species of exotic fish. It is most well known for its deep-water sponges and its large schools of red snapper.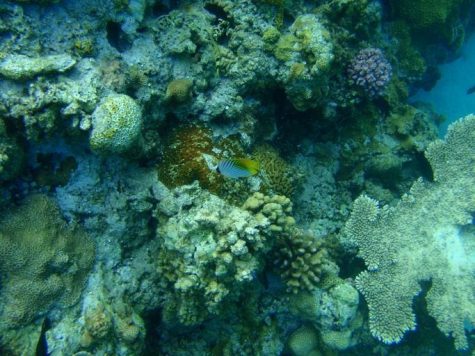 Now if you are looking for a getaway, you know where to go. Visit the beaches and coral reefs of the Bahamas and make sure to enjoy every minute of it.
Sources:
"Countries that have reopened for American Tourists" Travel off Path, Last updated February 22, 2021: https://www.traveloffpath.com/countries-that-have-reopened-for-american-tourists/ Accessed February 5th, 2021
"20 Amazing Things the Bahamas is known for" SANDALS, Last Updated February 21, 2020: https://www.sandals.com/blog/things-the-bahamas-is-known-for/ Accessed February 8th, 2021