CHUY'S
A Restaurant Keeping Austin Weird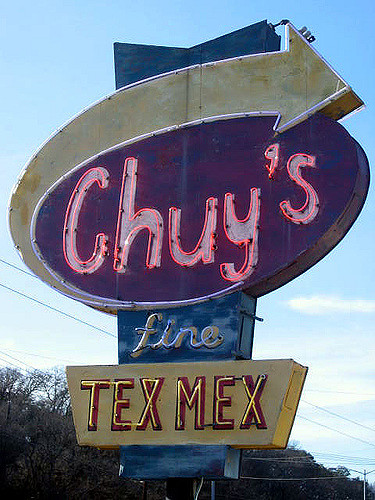 Whether it's a burrito the same proportion as a loaf of bread, fried chicken inspired by Elvis Presley, or fajitas steaming up to the ceiling, whatever is on your plate is bound to entice you. Chuys Restaurant is quite possible the most popular tex-mex venue in Austin, Texas. This can be due to many features, such as their funky and unique environment, the quick and speedy service by staff, and of course the mouth watering food. Other tex-mex restaurants don't seat you to a table nearly as fast, the general decor on their venue is nothing exciting; unlike the unusual diversity of Chuys, and the sauces are never as creamy. Chuys tops tex-mex as an Austin, Texas favorite. They keep Austin weird as well as flavorful.
To begin with, the venue has a funky and interesting looks to it with 1950's diner booths and chairs, bright colored walls, several miscellaneous paintings scattered around, a room with tire plates covering the walls, and different patterned tile floors. The decor makes the restaurant feel busy and exciting. No neutral walls or plain modern tables could have the same effect.
Despite its popularity, it doesn't take too long to get seated in this funky restaurant. Even when there are people piled out the door waiting, I have never sat for more than a half an hour. Once ordered, the food takes a reasonable twenty or so minutes to be prepared while you munch on their thin but crispy homemade chips and creamy jalapeno ranch. Not to mention the wait staff consistently checks on your table to see if you need a refill or more chips and salsa. A couple weeks back my family and I went out to eat there and they had put the wrong sauce on the chicken we ordered. They immediately took it back and served the correct order, as well as made that meal on the house. The service is always in favor of the customer.
When the glorious moment comes that you see your waiter coming with your food, prepare yourself for tender chicken, creamy tomatillo sauce, a freshly made margarita, zesty seasoned fajitas, crispy fried chicken, or whatever it is you ordered off of their extensive menu. I ordered the same meal at other places such as Dos Salsas and Chilies, and neither held a finger to the quality of Chuys. The tomatilla sauce served at other venues tends to be watery or chunky, while Chuys makes theirs creamy and fresh. Chuys food has never disappointed me.
Disappointment is not something felt when attending a dinner at Chuys. However, if I had to suggest one improvement, I would say that they should add more venues. If they added more of their restaurants around not only Austin, but Texas in general, their business could grow. They already know that people enjoy their restaurant, so adding more would just increase their favoritism. However, Austin will always be home to Chuys tex-mex.
With original designing and decor, attentive service, and a fresh appealing menu, Chuys gets a five star review from me. It may not be classy or elegant, but it certainly is something unique and special that no other restaurant has been able to achieve. Chuys continues to keep Austin weird as well as flavorful.