VASSAR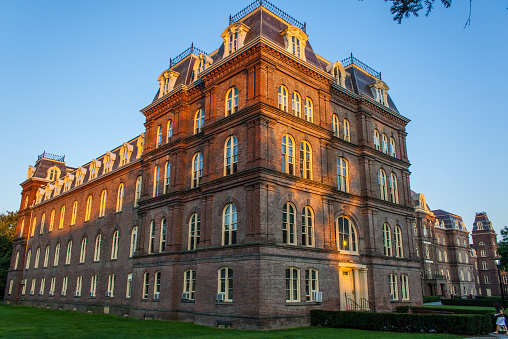 iUP's commitment to leading students to develop a love for learning and pursue excellence will lead some Owls to pursue higher education. For those considering college or university, the question is: What college or university is right for me? There are many options from which to choose.
For example, many of you have heard of the Ivy League schools and some may even be considering attending one of them. For those not familiar with the big Ivies as they are called, they are a collection of eight schools that are among the oldest in the country and regarded as not only being the best schools in the US but also in the world. Names like Harvard, Yale, Princeton commonly come to mind. But, how many of you know about the Little Ivies? The Little Ivies are a collection of about sixteen private, smaller, equally prestigious liberal arts colleges in the Northeast. Schools, like Vassar College in upstate New York.
Vassar is known as one of The Seven Sisters. The Seven Sisters are a group of colleges that were started in the late 19th century. Originally, they all were colleges for girls. But, over time, Vassar and one other opened their enrollment and are no longer exclusively for girls. The Seven Sisters include Wellesley College, Smith College, Radcliffe College, Vassar College, Bryn Mawr College, Barnard College, and Mount Holyoke College. All of The Seven Sisters are located in the Northeast.
You might think since Vassar was originally an all-girl school that it was founded by a woman; it was not. Vassar was founded by Matthew Vassar in 1861. His niece, Lydia Booth, encouraged him to make a college for girls in Poughkeepsie, New York; so, he built Vassar with $408,000 dollars (9.7 million dollars in today's money).
Vassar has about 2,500 students. With a 25% acceptance rate, one has a better chance of getting accepted into this Little Ivy than one of the big Ivies. The student-faculty ratio at Vassar is 8 students to every one faculty member. Vassar offers 51 majors and has 27 varsity teams. The most popular majors are Social Sciences, Biological, and Biomedical Sciences, and Visual and Performing Arts. Sports offered at Vassar include tennis, rugby, squash, basketball, and volleyball.
There are many attractions in and around the Vassar campus. One that has a personal iUP connection is the Juliet Billiard Cafe. It is 3 blocks away from the campus and is a very popular spot for students, faculty, and locals. It was originally called the Vassar Grill and was owned, operated, and run by my great grandparents on my father's side of the family. Pictures of this historic connection I have to Vassar are included below.
Out of a survey of 35 iUP students, 97% definitely want to go to college; less than half have heard of The Little Ivies or Vassar College, and almost 90% said they wanted to know more about Vassar.
Vassar and iUP have some things in common. In addition to both being exemplary schools, both have smaller student bodies, and both are the first of sorts, as Vassar was one of the first all-girls colleges and iUP was one of the first virtual schools in Texas. Since iUP and Vassar are similar in many ways and since almost 90% of the people that filled out the survey wanted to know more about Vassar this would be a good fit for my peers at iUP.