WENTZ TEARS ACL AGAINST RAMS, OTHER STORYLINES FROM NFL WEEK 14
Cowboys rout Giants 30-10, still in playoff fight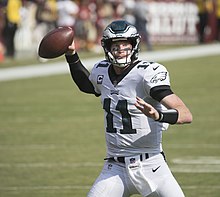 Hang on for a minute...we're trying to find some more stories you might like.
The whole playoff picture shook up this week, especially in the NFC. Here's the biggest stories and the scores from week 14.
Carson Wentz is out for the season after tearing his ACL in Sunday's win against the Rams. Wentz was hit on both sides of his left knee in what would've been a touchdown, but a holding call brought it back. Wentz finished the drive and was checked out by team trainers. He didn't return to the game and his injury was diagnosed as a torn ACL on Monday. Wentz will not play again this season. It will be interesting to see how the Eagles play without Wentz at QB.
The Dallas Cowboys won 30-10 on Sunday to make it two straight blowout wins against division opponents. Dak Prescott lit it up, going 20/30 for 332 yards and 3 touchdowns. The Cowboys had Sean Lee back, and it made a huge difference having him back on defense. He had 10 tackles, a season high, and his first interception of the season. The Cowboys are 7-6, and can still make the playoffs, but they must win out. They play Oakland on Sunday Night Football in week 15 at 7:20 on NBC.
The Patriots were stunned by the Dolphins on Monday Night in a 27-20 win for Miami. Jay Cutler had a good game, passing for 263 yards and 3 touchdowns, but the difference maker was running back Kenyan Drake, who is in his second season. He ran for 114 yards on 25 carries, averaging a blistering 4.6 yards per carry. The Patriots are now 10-3, as the Dolphins are 6-7. The Patriots have a pivotal game against Pittsburgh on Sunday. For Pittsburgh, if they win and Jacksonville loses, they can wrap up home-field advantage for the playoffs.
Here are the scores from week 14.
NO  17 – 20  ATL
DAL 30 – 10  NYG
IND    7 – 13  BUF
MIN  24 – 31 CAR
CHI  33 –  7   CIN
GB   27 – 21  CLE
SF    26 – 16  HOU
OAK 15 – 26  KC
DET  24 – 21 TB
TEN    7 – 12  ARI
NYJ    0 – 23  DEN
WAS  13 – 30 LAC
SEA   24 – 30 JAX
PHI    43 – 35 LAR
BAL   38 – 39 PIT
NE     20 – 27 MIA

About the Writer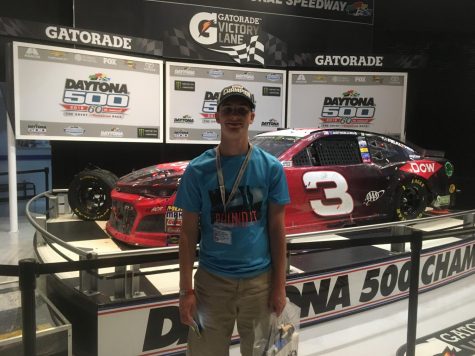 Austin Travis, Sports Section Editor
Hey guys! I am Austin Travis, I'm a Sophomore here at iUniversity Prep, and I am super excited for my fourth year on the iHoot staff. I will serve as the Sports Section Editor for the third year in a row, as sports are my biggest passion.
Outside of school, I follow many sports. I'm an avid racing, basketball, and football fan, and spend almost all of my free time doing stuff associated with those three things! I'm also a competitive swimmer, and spend hours a week in the pool. I love to play XBOX games, such as 2K and Madden. I also love EDM and hip-hop music.
I am looking very forward to providing the whole iUniversity Prep community with up-to-date stories about what's going on in the world of sports, and hope you guys find the same enjoyment reading my articles that I feel when I write them. I'm truly looking forward to another fantastic year with iHoot, and I'm super excited to be back as the Sports Editor for the 18-19 school year!