SOUTHWESTERN UNIVERSITY: A RECAP
Here is a recap on Southwestern University, located in Georgetown, Texas.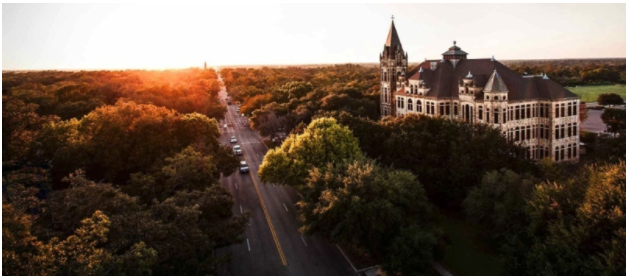 Ingrid Alberding, College Corner Editor
April 16, 2018
Southwestern University is a four-year collegiate school located just north of Austin in a small town called Georgetown. It's the oldest institute of higher learning in Texas, founded in 1840. It is decidedly liberal arts, with small class sizes and professors that have been known to invite their students over for dinner occasionally. Many ask, considering that this is the oldest college in Texas, why it's stayed so small, and most staff and professors at the university will tell you that it comes out of a philosophical principle that smaller, discussion-based classes are more beneficial. Thus, they've kept themselves small, their student population a little smaller than 1,500. Some of the school's most popular majors include Business and Psychology. The university also has a great internal financial analyst program for those majoring in Business or Economics that gives you a lot of hands-on experience in the field.
Recently, I was able to stay overnight with a German and Education major, named Melina, in her dormitory. From her words to me I can collect Southwestern is very high on the familial aspect. This can be a positive or negative, for if you enjoy anonymity you likely won't get it; on the other hand, if you would like to get a close gaggle of friends this is perhaps the right place for you. Southwestern is consistently ranked among the top private colleges in Texas and is in the Top 100 Liberal Arts Schools according to US News & World Report.
With its acceptance rate falling at around 50%, the school is rather selective, although they preach a holistic approach, looking not just at test scores but at extracurricular involvement and personal qualities. As dubious as this sounds, time and again students have shown success after matriculation in the workforce or further academic pursuits. Talking to students, many of them told me one of the finest aspects of Southwestern is the Career Services Department, which gives students personalized help with resumes, advising on chosen field and preparation seminars for tests like the GRE or LSAT should you need it.
There was something inherently charming about the Southwestern, be it the rickety, cloistered elevator in the all-girl's dormitory or the staff that were effusive and eager to please. The school's definitely not for anyone — but is any school? Even a gargantuan flagship school may not offer the opportunities everyone wants.