UNDERDOG REDDICK CAPTURES FIRST XFINITY CHAMPIONSHIP
Sadler finishes 14th in final NASCAR race
Hang on for a minute...we're trying to find some more stories you might like.
Tyler Reddick overcame the odds and won his first championship in Saturday's Ford EcoBoost 300. After an up-and-down season highlighted by a huge win in the season opener at Daytona in the closest finish ever in NASCAR, with a margin of 0.0004 seconds, Reddick got the job done at Homestead, taking his second win of the season. He became the first driver ever to win the season opener and the season finale in the same season in the Xfinity Series. "We had to overcome a lot," Reddick said after exiting his car. "This year was all about learning. It was an up-and-down year and with everything we had to do, we had to do it in the playoffs, and it rewarded us with a championship. We can hang our hat on that. I know people will say we weren't consistent, but we got it done when it counted most" (courtesy of nascar.com). Reddick ran the high line for nearly the whole race, running just inches from the wall. Drivers prefer to run a higher line at Homestead, but only a select few, including Reddick, can run well just inches from the wall. "I knew coming in here if we just made it to Homestead, this is a great track for me, it rewards my aggression," Reddick said. "We hit the wall a lot, but the car kept in one piece long enough for me to get to the end" (courtesy of nascar.com). Reddick tore up his left rear in his burnout though, as the championship flag got caught between the tire and the fender. It shredded the fender apart as well as the flag. "It's just a great moment," Reddick said in Victory Lane as the title win began to sink in. "This isn't going to be the year where the best car all year won. We had to fight really, really hard. I made a lot of mistakes. I had a lot of growing pains. These guys didn't give up on me" (courtesy of nascar.com). Reddick will drive for Richard Childress Racing's Xfinity Series program in 2019.
Elliott Sadler capped off a successful NASCAR career on Saturday with a Bud Light toast with his pit crew. "I've got a great race team," Sadler said. "JR Motorsports has been so good to me and I just wanted to have a toast with my guys and tell them how much I love 'em, how much they've meant to me and how much really they've changed my life these last couple of years. … I wanted to make sure they knew my appreciation" (courtesy of nascar.com). Sadler, who had a vibration that forced him to pit late in the race, finished 14th in his final race. "It's tough. It is. It didn't really end the way we wanted to for our team," Sadler said. "I'm sure it'll hit me tomorrow, but it's cool to see the laughter and we've got such a good group of guys. I didn't know how my emotions would be, but actually I'm OK, which makes me feel good about my decision. I feel good right now. It feels right. I gave it my all. We came up short, but I don't have any regrets in my career and the opportunities I had, I've tried to make the most of them. I've had long enough to pursue my dreams and what I want to do and now it's time for me to help my kids pursue theirs." In addition to four runner-up championship finishes in his Xfinity Series career, Sadler also won three cup series races, two of those coming in 2004.
The Xfinity Series silly season is taking shape, but some rides are still to be determined. Noah Gragson has been confirmed to drive the #1 in 2019, and Tyler Reddick has been confirmed to drive for RCR in 2019. The status of Cole Custer is still an unknown, as he has been rumored to take over the #41 in the Cup Series for 2019, but there has been no official announcement. Could Christopher Bell potentially move up to the Cup Series, or does he stay at JGR in the Xfinity Series? Multiple Truck Series drivers could potentially acquire Xfinity Series rides for 2019 as well. Justin Haley could potentially be moved up to GMS Racing's Xfinity team, or stay put with GMS in the Truck Series. Brett Moffitt is also a huge unknown for the 2019 season. Could he take the #9 for JR Motorsports? It will be fascinating to see how the rest of silly season unfolds as we prepare for the 2019 season.
Sources:
Report, Staff. "Tyler Reddick Wins 2018 Xfinity Series Championship." Official Site Of NASCAR, NASCAR.com, 18 Nov. 2018, www.nascar.com/news-media/2018/11/17/tyler-reddick-wins-2018-xfinity-series-championship-jr-motorsports/.
Albert, Zack. "Elliott Sadler Toasts Retirement with JR Motorsports Crew." Official Site Of NASCAR, NASCAR.com, 18 Nov. 2018, www.nascar.com/news-media/2018/11/17/elliott-sadler-jr-motorsports-xfinity-series-retirement-homestead-miami-speedway/.
Written on November 19th, 2018

About the Writer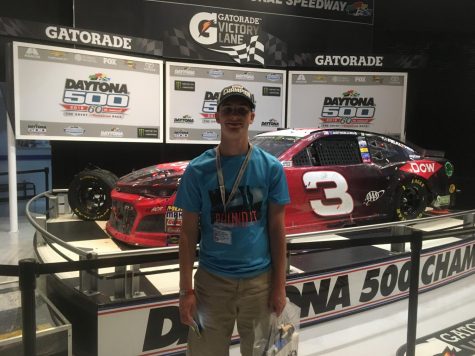 Austin Travis, Sports Section Editor
Hey guys! I am Austin Travis, I'm a Sophomore here at iUniversity Prep, and I am super excited for my fourth year on the iHoot staff. I will serve as...