UNIVERSITY OF NORTH TEXAS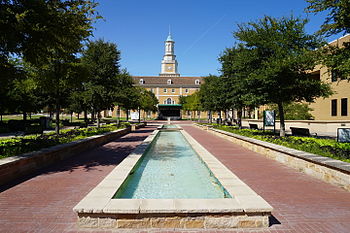 Cheyenne Manning, Staff Writer
October 11, 2019
UNT or the University of North Texas is located in Denton, Texas and is one of Texas' largest universities. With their green, black, and white, UNT is a huge college with about a million things to do. There is a giant gym, different classes you can take, or you can just chill in your dorm. In my opinion, UNT is the college that can't be beat.
With UNT being so big, you can probably guess that there are a ton of classes you can take. They offer one hundred-five bachelor degrees, eighty-eight master's degrees, and thirty-seven doctoral degrees. UNT's mission is to prepare students for a career in our changing world today. This college focuses on its innovative research for science, arts, and technology, engineering, and mathematics. UNT also has partnerships around the world. Further, they also focus on their athletic teams including, men and women's basketball, cross country, football, men and women's golf, soccer, softball, swimming and diving, tennis, track and field, and volleyball. The Mean Green have won one hundred-thirty championship's so far and they have had seventy-eight football players drafted into the NFL.
With student life, you can find a new home, new friends, and a new family. When looking at where to live, an option will be presented of fifteen residence halls. Every hall has a different personality and different traditions. Also, many of these halls offer Living-Learning communities. These communities bring you closer to others who may have the same major or interest. With the many things you have going on, you will feel hungry. You may just want to chill with the squad or you may just want some study time. The different dining halls have terrific food that goes from vegan to hand-tossed pizza. While you may be the kind of person who likes to spend their time in the library with their nose in a book, or maybe you like to be an outdoors jock. At UNT there are many outdoors and indoors things you can do. There are pools, a climbing wall, indoor track, indoor and outdoor basketball courts, and volleyball courts. There are so many events you can go to for UNT. There are sports games, plays, and so much more. Also, if you live in the Denton area there are many things you can do. There are so many restaurants you can go to, and there is a ton of business close by if you want/need a part-time job. The admission for UNT is pretty easy to figure out. The tuition for an undergraduate student signing up for fifteen hours per semester is $25, 680. For out of state undergraduate students the cost is $38, 340. For graduate students, the tuition if you signed up for nine hours per semester would be $22,568. For out of state students it would be $30, 164. There are other costs that are involved, but their website lays out everything you need to know.
There have been a ton of teachers, doctors, pilots, etc. who have graduated from UNT with a great education. If you want more information, maybe ask one of our awesome teachers who graduated from there. Have a great year owls!