BROWN UNIVERSITY
Could this be your dream school? After reading, you might want to reconsider.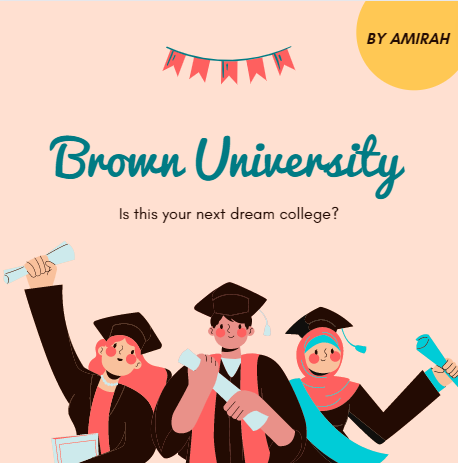 As iUP students, with our amazing education and our school's way of promoting students planning for college, it is almost impossible to not think about college. Whether it's daydreaming about walking through campus and exploring your dream passions at your dream college or almost crying just thinking about the mountain of work up ahead. It is never too early to start planning in advance and thinking of some colleges you want to apply to, especially with the support and information that iUP provides for us. Brown University is a name that is thrown around, but is it worth the hype? Is it the college that you are looking for?
Why Brown?
For everyone, deciding and applying to a college is a very difficult and stressful process. Over the past two years, people have shared their accepted and rejected Brown University video portfolios on YouTube. Oh, that reminds me! Brown University is one of the only colleges that accept video portfolios when applying. When looking through these future Brown students' submissions, it's easy to see how creative and smart these people are. They remind me of the students here at iUP! Now let's look at some of Brown University's pros and cons (and listen up because there is a good chance this will be your next dream college!).
Pro #1: Open Curriculum
If you know what this is, then you probably know how rare it is to see this in college, which is one of the things that makes Brown special. As Wikipedia puts it, Brown makes the students "the architects of their own syllabus", and allows them to take or make any course for a grade. Their only requirements are a minimum course requirement and a writing requirement. For iUP sophomore Eve Bamber, Brown might be a good fit! She says that "[she is] looking for colleges that are on the smaller side, are located in the New England area, have a good law program (she's interested in majoring in law), and have a wide range of extracurriculars!
iUP junior M.H. expressed," Having to pick a career for the rest of my life is very scary. "  I think we can all agree that she is not alone! That is why many people have gone to Brown. They offer the freedom to explore, including a shop week where you can go in and out of courses and change them if you find one that you love! Although some people still prefer a more strict structure, this allows the students to be more independent and expand more professionally on what they want to spend their time learning.  Even so, this does not make Brown University any less academically rigorous. They still offer standard and important courses AND extracurriculars that still challenge you and make sure you have your brain working to its full potential, but still have the freedom to explore.
Pro #2: People
Brown University has an acceptance rate of 8%, which is shocking, but it shows how smart, creative, and focused those students are. Brown has been named the 4th happiest school by Newsweek's The Daily Beast in its 3rd annual college rankings. They also have a variety of well-known professors for different fields. The professors received a total score of 4.5 out of 5 from students.
Now I don't expect you to recognize the names, but some of the best professors include; Barrett Hazeltine who teaches Engineering (with a rating of 4.6), Matthew Zimmt who teaches Chemistry (with a rating of 4.6), Gregory Elliot who teaches Sociology (with a rating of 4.5), and many, many more! With all of the great professors wanting you to succeed, and intelligent students attending, Brown is known for their collaborative atmosphere that is perfect for both independent people AND people who work best in teams.
Pro #3: Ivy League Prestige
Being human beings, we tend to look at or make brands superior. For example: maybe there is a better brand than Nike, but society, most of the time, goes with Nike because of its brand. Brown University is one of the top Ivy League Schools. Meaning yes, it might be more money, but you wouldn't just be paying for the education and amenities, you would be paying for the brand as well. You would now be associated with the Ivy League, and future job employers, friends and family, and random people you meet will be looking at that brand! That is one of the main benefits you would be paying for and receiving if you apply at Brown.
Con #1: Price
The average cost, after aid, for Brown University is 29K, which is a lot of money, but as we have talked about in the paragraph before, you would also be paying for the benefit of SAYING you went to Brown University. Of course, for an Ivy League graduate, your earnings might be more than average depending on your career but think to yourself if all of that student debt would be worth it. iUP junior Makenna Horne indicated, "I want a college that has a good price and that I can get scholarships to." 
With iUP students receiving awesome, FREE education here, this is definitely an uncomfortable topic to think about. It's suggested to look at things from different points of view, for example: what you value, and if you are really going to appreciate your education and time there. That money needs to come from somewhere; if you are really determined, you should think about talking to your parents about this, planning future jobs, and getting student loans. It's really important to consider the price and the investment, and if you can do what it takes to afford Brown University.
Con #2: Campus
The facility is located in Providence, Rhode Island. This is both a con and a pro. A lot of people love it because it's medium-sized and has all of the outdoor spaces, but students complain about the fact that there are streets between the campus making it a little scattered. If you wanted a more enclosed campus, this is something to think about. Brown University also makes students live on campus, but in most cases, you can request to move out for sophomore and junior year. The dorms are a hit or miss most of the time because of all the old and new buildings that need attention. The town of Providence has a relaxed environment. As a Brown student, you always have access to walk up and down the town in a free afternoon, which also offers 1-hour train rides to Boston. This offers students a variety of activities, and restaurants are always available outside the campus, but not to the extent that it's distracting for the students. You'll see if you get to visit!
If the Shoe Fits…
In conclusion, Brown is a great college, and you would benefit a lot from it! Every student here has different standards their college must meet, so remember to do your own research to see your future college options. I hope this article helped you see if Brown University checks off your boxes! A huge thank you to everyone that shared their opinions and thanks for reading!
Work Cited: