2020-2021 iHOOT WISELY AWARDS!
Special Awards for Those Who Make iHoot, iHoot!
At some point in our lives, we have gotten praise, trophies, or applause for our accomplishments and talents. Here at iHoot, we think our writers and editors deserve the same courtesy; hence the creation of the iHoot Wisely Awards. The winners of the Wisely Awards were announced May 20th, 2021 at the annual Owl Expo. The included categories such as Best Section, Best Article, High School Journalist of the Year, Middle School Journalist of the Year, Editor of the Year, Journalism in iHoot, Spirit of iHoot, iHoot Achievement, and Heart of Wisely. If you weren't at the Expo, you'll find out the winners soon enough.
Best Section
iHoot has a variety of different sections, from Sports to Travel, Opinion to College Corner, we even have our own Eyes on Owls section that spotlights students here at iUP. It wasn't any of these sections that won though. The section that was deemed 2020-21 Best Section is: Feature! (Click on the bold letters for it to take you to the Feature section) This section is run by our very own Nhi Nguyen! With a variety of articles anywhere from "Why should you journal?" to "How to have a successful last semester", this section is always worth checking out.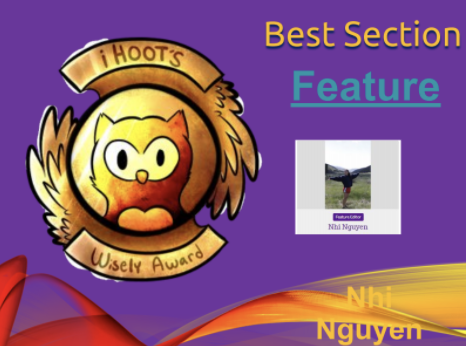 Best Article
This one is once again a tricky one. All the articles nominated were amazing ones to read. The articles that were nominated were:
Out of these amazing articles, iUP students and iHoot writers voted on these, and the winner ended up being: Self Care for Students by Eve Bamber! This win was well deserved, and if you haven't already, go read Self-Care for Students by Eve Bamber.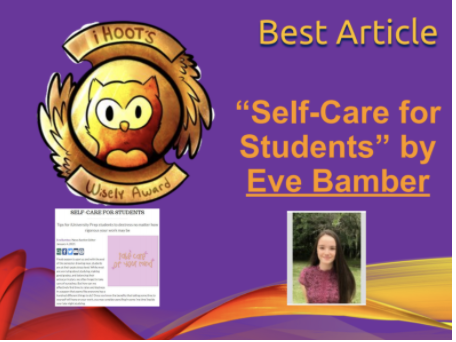 HS Journalist of the Year
Everyone brings something special to iHoot; this category of award is dedicated to honoring the best of the best, those who make iHoot what it is. This year, the nominees were Emily DeMotte, Susannah Otstott, and Alondra Martinez. All of them are amazing journalists, but the nominee with the most votes in their favor was: Emily DeMotte! Emily is the travel editor here at iHoot, and she has worked hard all year to write and edit articles to the best of her ability. Emily is also one of the co-associate editors for the 2021-2022 year. Go on ahead, and check out some articles by Emily DeMotte.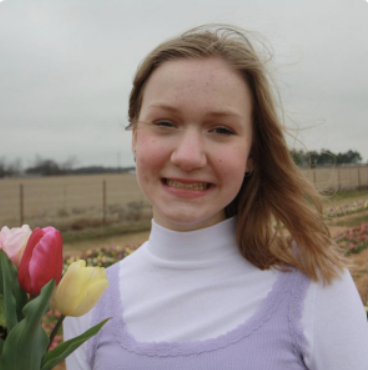 Elem/JH Journalist of the Year
Like with the high schoolers, this category showcases the best middle school or elementary school journalists here at iHoot. While all the iHoot Staff Writers and Editors are amazing journalists, iHoot wanted to give this award to the best elementary or middle school journalist for this year. The journalists nominated this year were Eylee Pennings, Marcus Bamber, and Addison Wiley. Though all of them could have easily won this award, the winner for the 2020-21 Elem/JH Journalist of the year is Eylee Pennings.  Eylee Pennings is a 6th grader at iUP, and is next year's Special section editor. Eylee has written 13 articles this year, and she has worked hard to write quality articles that can help make iHoot, iHoot. Go read some of Eylee Pennings articles, such as Being Powerful Without The Power and Be Mine Valentine.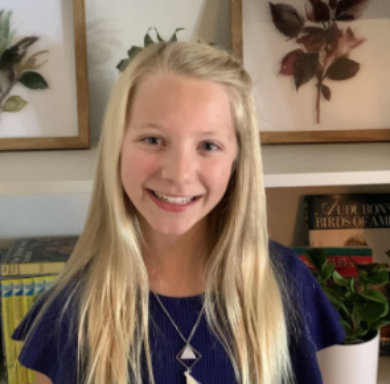 Editor of the Year
For Editor of the Year, all the editors have worked tirelessly to make iHoot the best it can be. Without them, iHoot wouldn't be as great as it is today; that's the whole reason the Wisely Awards include the Editor of the Year category. There are many types of editors on the board, and that's what makes it so difficult for students and teachers to choose just one. In the end, the winner of Editor of the Year was our very own Co-Editor in Chief, Guin Rogers. Guin and her Co-EIC Austin Travis have put iHoot together, between coordinating meetings and helping other editors when needed, Guin has done all that while balancing the academic work of a busy high school senior.  While Guin is leaving iUP to go to college, she has made a huge impact on iHoot and anyone she comes into contact with. We will miss you Guin!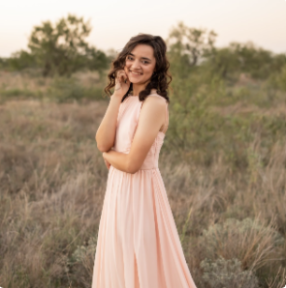 Journalism in iHoot
This was a category for those who take the journalism class here at iUP. The winner of this year's Journalism in iHoot award is: Susannah Otstott! Susannah was a nominee for High School Journalist of the Year, and is a graduating sophomore here at iUP. She has written articles such as Watermelon Sugar and Dancing Through the Pandemic. Susannah is a talented writer and I would encourage you to go read some of her articles when you have the chance.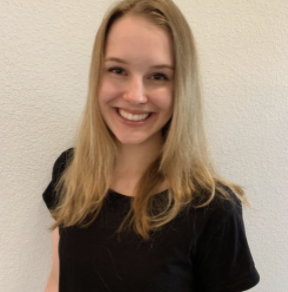 Spirit of iHoot
This award is given to the person who really kept iHoot together that year, and who was the embodiment of all the qualities iHoot wants their editors and writers to have. Because of this, the Spirit of iHoot Awards goes to our Associate Editor, Enya Ratkic. Enya is a graduating senior here at iUP and she has really shined this year; between iHoot, HooTorials, the workload of a senior, and playing tennis after school, Enya really is the Spirit of iHoot. Like other seniors such as Guin Rogers and Austin Travis, Enya will be graduating this year. We are sad to see our seniors go, but we are proud of them and we can't wait to see what they will accomplish.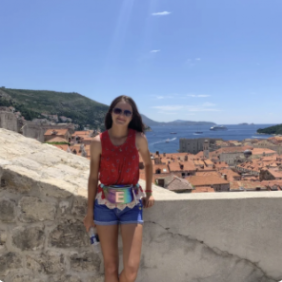 iHoot Achievement
iHoot takes a multitude of qualities such as determination, hard work, and a love of writing. In iHoot, you are among some amazingly talented young writers and the iHoot Achievement could go to anyone. However, one of our editors stuck out this year. That's why our iHoot Achievement award goes to one of our Co-EIC's, Austin Travis. Austin is among the seniors at iHoot this year, and like others, he had a lot on his plate. While being an EIC(Editor in Chief), writing 15 articles, and getting his schoolwork done, all of our seniors have managed to impress us this year. We will miss all of our seniors, and we hope for success in their futures.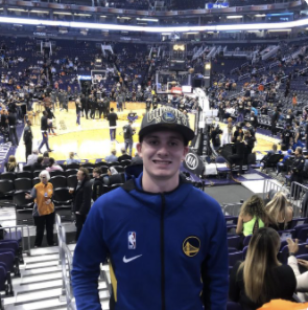 Heart of Wisely
Our final award is the Heart of Wisely. This award goes to the person with the qualities that every wise owl should have. Also this award is one where the specific students get picked by their fellow teachers and students. Those who were nominated include Eve Bamber, Natalie McLaren, Eylee Pennings, Emily DeMotte, Guin Rogers, Addison Wiley, Mia Miller, Enya Ratkic, Sophia Sokoll, Addison Bartek, Austin Travis, and Susannah Otstott. All of these people could have won this award, but the winner of this year's Heart of Wisely was: Natalie McLaren! Natalie has written many articles, including 2020: Hidden Happy Edition and Riding the Waves. Natalie is also the Eyes on Owls editor for the 2020-21 year, and is our future Co-EIC for next year. While this is still her first year at iUP, Natalie always shines and shows us how much she has to offer.  Natalie always brings out the best in others, and she deserves the Heart of Wisely.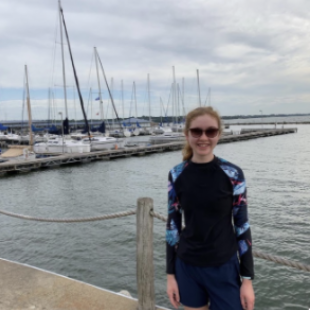 The Wisely Awards for the 2020-2021 year show us how much we've come, and how much is to come in the future of iHoot. While not all of us will be at iHoot next year, we can all count on it being more spectacular than ever before. Until then, have a good summer!