2016 Halloween Bash
The Halloween Party of the Year is Here!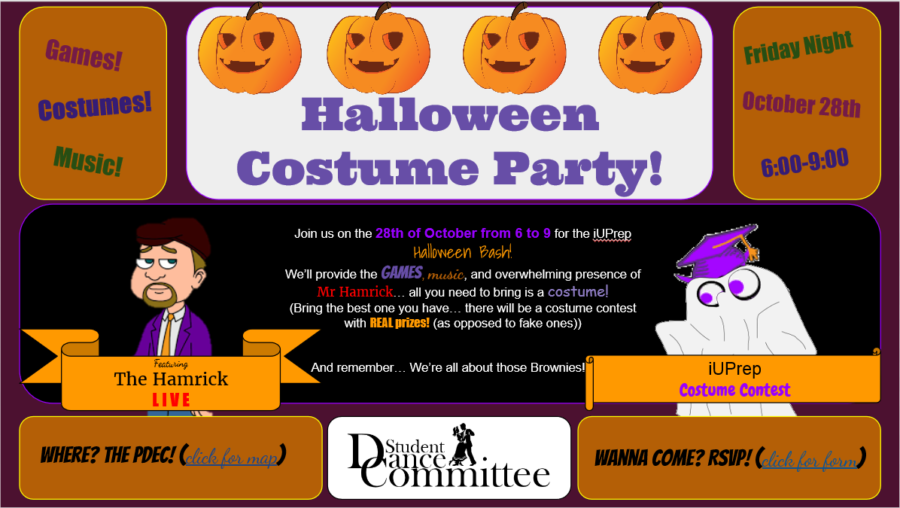 Jonathan Story, Clubs/Activities Head Editor
October 24, 2016
That's right, the iUPrep Dance Committee is at it again, this time with its biggest event yet: The official iUPrep Halloween Bash!
Taking place on this Friday, 10/28/16, this event is a big costume party for iUPrep students and anyone who wants to attend. It will include games (with genuine iUprep t-shirts as prizes) such as a toilet-paper mummy relay race, a best-costume contest (also with t-shirt prize!) hosted by The Hamrick himself, and so much candy it'll be coming out of your ears.
Do us all a favor, though, and make sure your costume meets these requirements, as this is a school event and should be kept school-friendly: Costume must cover torso and must be no more than 3 inches above the knee; no masks, and makeup/facepaint should be used carefully. If your best friend wouldn't recognize you, it's too much! Also, no fake blood or fake wounds. If you have a question about your costume, contact the Dance Committee by messaging Denise Soerens (denisealah@gmail.com) on Google Hangouts or web-mailing our sponsor, The Hamrick.
The event will be taking place at the PDEC up in Colleyville, Dallas, from 6-9 PM, and is free to attend! Just let us know you're coming by clicking on this link: https://docs.google.com/forms/d/e/1FAIpQLSdrvLe0D1iH3xWnri6tQPHQngI1eNh3tD0PeSew8Hpk2uf-lQ/viewform?c=0&w=1
See you there!
Jonathan, member of the Dance Committee
This article has been approved by the Dance Committee