SUPER TOT SAVES THE DAY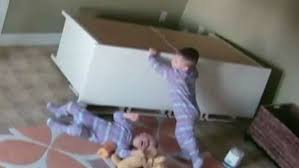 Hang on for a minute...we're trying to find some more stories you might like.
Two seemingly normal two-year-old infants were playing with their bedroom dresser last week. It was a normal morning on a normal day, and no one in the world cared or noticed. Suddenly, as Brock, one of the two twin boys, climbed into one of the drawers in the dresser at the same time Browdy, the other of the two twins, climbed into the adjacent drawer…the whole dresser tipped over.
Fortunately, Browdy rolled out of the way, mostly unharmed. Brock, on the other hand, was not so lucky. Trapped underneath the dresser, Brock was now faced with the lethal accident that has killed or injured over 25,000 children every year: being trapped underneath a dresser. Although his parents are nearby, how long will it take them to realize something is wrong? Will they come for him in time? Unfortunately, most dresser accidents happen with the parents nearby, but the child is smothered by the dresser or is unable to make a sound for help.
But Brock's situation is different from the other poor children who were trapped underneath a dresser, because Brock has a twin brother who's not about to wait around and see what happens. Browdy quickly shifts into his alter-ego, Supertot, and lifts the dresser off his brother using nothing but sheer muscle (and a little wiggling from Brock). And when this video was published using the surveillance camera used to make sure the kids are okay in their bedroom on Sunday, little Browdy quickly went viral.
There is another silver lining to this story on top of Brock being ok. Ikea, a furniture store, has donated $50 Million to three different families whose toddlers have been killed in dresser accidents.
Singing Off, this is Jonathan Story, with iHoot Breaking News.